Print PDF
Hirschler Invites You To Join the Celebration!
In March 1946, our founders, Major Edward S. Hirschler and Lieutenant Alan Fleischer returned from the Pacific Theater at the end of World War II. To save on expenses, the two lawyers shared office space in Richmond's only "skyscraper." From this modest start grew Hirschler – today, the seventh largest law firm in Virginia.
Over the next few months, Hirschler will reflect on 75 years of legal excellence and client service. We will celebrate the legacy of our founders and the core values that have shaped our firm – then and now. We will share what makes Hirschler unique: what inspires talented attorneys to join us and valued clients to rely on us as trusted advisors.
We look forward to providing ongoing coverage of our anniversary celebration. Please bookmark this page and revisit often.
Founder Highlights
In Their Own Words
"When I got back to Richmond [after Army service], I met Alan Fleischer from New York and we decided that two lawyers could starve to death as cheaply as one, and we started the firm of Hirschler Fleischer." - Ed Hirschler
"We always practiced cleanly, fought hard. We're fair and we're honest. We keep bills on a minimum basis, unlike some firms that will appear with one partner and two associates. If we could do it with one of us, we did it that way." - Alan Fleischer
"Draft as if you were writing a telegram and had to pay for every word." - Ed Hirschler
"We never got what I call the 'marshmallow business.' It didn't come easy to us that way. But I noticed we got a lot of cases because we did good work." - Alan Fleischer
"Do good work and charge a fair price." - Alan Fleischer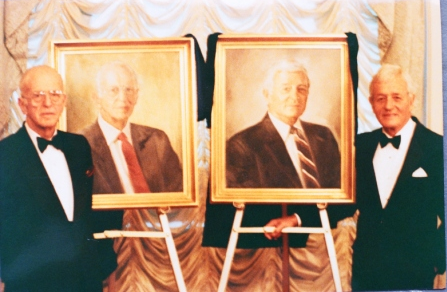 Alan G. Fleischer
"Alan's original role in the firm was as a trial lawyer who brought a great sense of intensity to his case work. His killer instinct pushed toward the jugular vein of the opposition's case. He never underestimated his opponents' skills and constantly pressed his associates to think of innovative, creative ways to present their cases. There were no routine matters in Alan's workload. Every case was critical to the client, and, accordingly, to the firm." - Partner Jay Weinberg, Former Hirschler Chair Emeritus
"Alan was a shark. He was a consummate businessman and financier with street smarts who regularly exceeded the goals of his clients. His no nonsense practicality coupled with an incredible intellect, served his clients and his firm very well." - Partner Jim Theobald, Hirschler Chair Emeritus
"I asked my friend Marcus Weinstein to recommend a good 'cat and dog' lawyer, and he said that Alan Fleischer was the best 'cat and dog' lawyer in Richmond. That's what we called people who didn't give up." - Mark Sternheimer, client of Alan Fleischer
"Ed and Alan were both great teachers in different ways. Ed went out of his way to be a mentor, even though we didn't call it 'mentoring' back then. He delighted in trying to make the law understandable to all the young lawyers who came through the firm and to give us little lessons and hints and examples of how to behave and how to write." - Chuck Long, Former Hirschler Partner
"Over the years, Ed Hirschler was fond of saying 'Our clients' success is our success.'" - Excerpt from Hirschler Fleischer: The History of a Law Firm
"Alan placed our law firm at the head of real estate syndication, tax advantaged transactions, and equity placements. He never stopped thinking about the best way to structure a transaction, nor would he ever let an associate stop short of the desired goal. He turned law students into lawyers very quickly." - Jay Weinberg, Former Hirschler Chair Emeritus
"[Alan's] way was quite different [from Ed's]. He just wanted the work product. When he got it, if he liked it, you never heard about it. If he didn't like it, you heard a lot about it. Not much constructive criticism, but he was so bright that it was impossible to be around Alan without learning an awful lot about business law." - Chuck Long, Former Hirschler Partner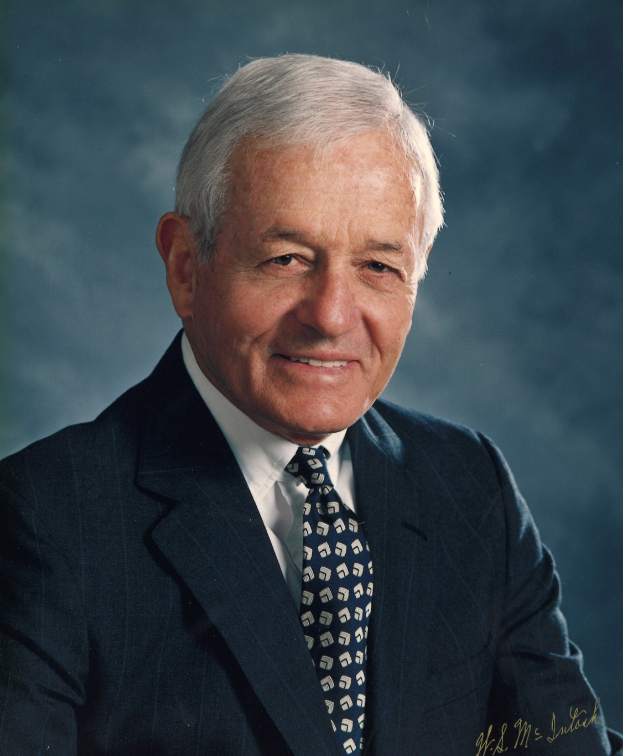 Edward S. Hirschler
"One of the things that really accounts for much of the rapid progress of our law firm was Ed Hirschler's fascination with technology. We were among the first law firms in the city, for example, to have the forerunner of the Xerox machine. It was a called a Thermofax machine and it took about 30-45 seconds to get each page through the machine." - Partner Jay Weinberg, Former Hirschler Chair Emeritus
"Long after [Ed] had retired from active practice – until fifteen days before his death – he continued to come into the office almost daily, working to improve his firm develop new clients, and train younger lawyers." - Excerpt from Hirschler Fleischer: The History of a Law Firm
"Ed was a natural teacher, a mentor before the world became popularized. His standards were high. 'He had no tolerance for error, grammatical or substantive and he brooked no indecision or intellectual laziness.'" - Jay Weinberg, Former Hirschler Chair Emeritus
"As an associate, you learned very quickly that Ed Hirschler never went to sleep before midnight and Alan Fleischer never slept past sunrise. As long as one of them was awake, you were fair game. Next to a superior mind and passion for the law, your ability to get by with four hours' sleep a night was most helpful." - Jay Weinberg, Former Hirschler Chair Emeritus
"Always on the cutting edge of technology, Ed was emailing his four granddaughters before most people had heard of e-mail." - Excerpt from Hirschler Fleischer: The History of a Law Firm
"I think one of the distinguishing things about Hirschler Fleischer is that Ed, Alan and Jay [Weinberg] had a sense of institution. One of the great strengths of the firm was that for any number of reasons…we were the underdogs. That atmosphere creates a challenge for all Hirschler Fleischer lawyers to excel, to measure up to and exceed the standards of all our peers. It bred and environment where achieving excellent results was rewarded and it impelled us to a level of sophistication in our work beyond that typical for our size. We had to be nimbler and more creative." - Chuck Long, Former Hirschler Partner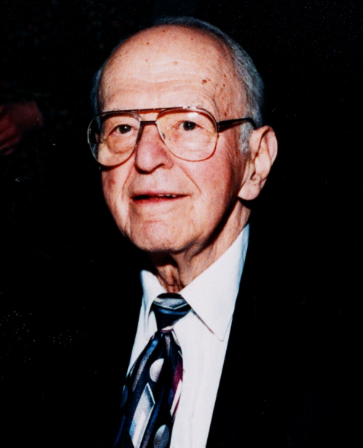 Other Reflections
"I think the greatest single mindset that permitted the firm to grow and prosper was one in which the senior partners were receptive to young leadership. They permitted the young leaders in the firm to step forward and assert themselves, sometimes to the detriment of older leadership but always to the betterment of the institution." - Chuck Long, Former Hirschler Partner
"What attracted me to [Hirschler] is that it was not a traditional main street firm where who you were and who your family was mattered. I saw this incredibly varied group of people with different backgrounds and different interest, and I thought I would be accepted for who I was." - Mike Terry, Hirschler Partner
"I think that we were one of the first firm in the city to have budgets and a business plan, as a opposed to just thinking, well, what's going to come in the door will come in the door." - Jay Weinberg, Former Hirschler Chair Emeritus
"Here you are judged on your merits and performance. You are responsible for your success." – Mike Terry, Hirschler Partner
"One of the most important things about a law firm is how the decisions are made. You need to develop an overwhelming consensus about all the major things you do: who you make partner, who you hire, when you move the office, when you decide to enter a new practice area." - Jay Weinberg, Former Hirschler Chair Emeritus
Living Our Values
Celebrating the Next 75
As we near the close of our 75th year, Hirschler reflects with gratitude on the many individuals who have contributed to our success. With the gracious support of our families, and the trust of our clients and communities, our firm has grown and prospered for more than three-quarters of a century. Thank you for your continued confidence in Hirschler. We look forward to sharing exciting developments from our "next 75."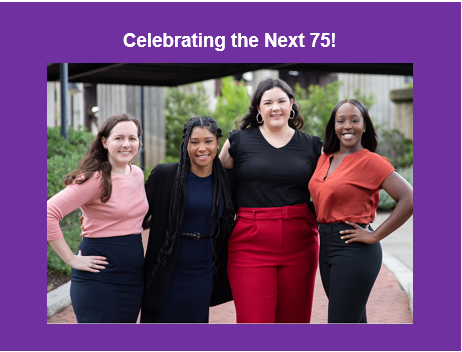 Celebrating Legal Excellence
One of Hirschler's key differentiators is the ability to deliver legal excellence with business efficiency. We are grateful to have many of our attorneys recognized by their clients and peers in the most notable industry groups and directories, including Chambers USA, the American College of Real Estate Lawyers (ACREL), the American College of Trial Lawyers, the American Bar Foundation Fellows, The M&A Advisor, Super Lawyers and Best Lawyers. We rely on this feedback – and regular check-ins with our clients – to enhance our service capabilities and delivery.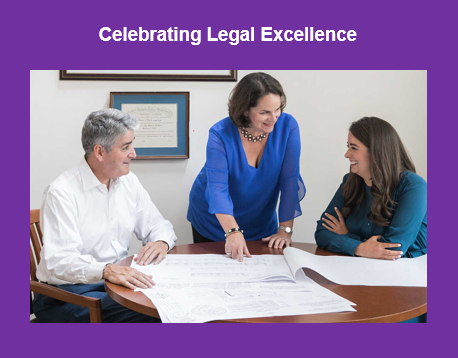 Celebrating Client Feedback
Hirschler is committed to providing extraordinary client service. As a firm, we endeavor to provide excellent service all points in the matter life cycle: from our initial engagement on a client matter to its successful conclusion.
In order to measure our clients' satisfaction with our firm and gain a better understanding of their businesses and legal needs, we conduct confidential interviews with many of the firm's key client contacts. In addition to measuring general satisfaction, these interviews give us insight on what our clients want and expect from their Hirschler experience. Armed with this feedback, we are able to customize our approach to deliver best-in-class service.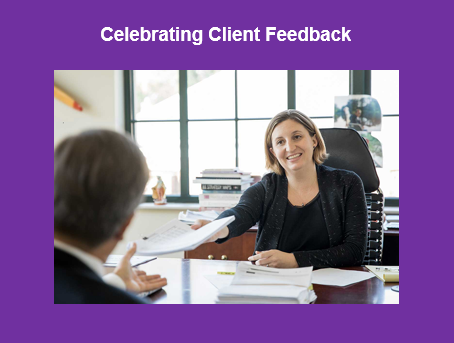 Celebrating Diversity
Hirschler recognizes the importance of a diverse and inclusive workplace—not just for all of those who work at the firm, but also for the clients we serve and the greater community. Hirschler's commitment to providing excellent client service with business efficiency rests upon the foundational understanding that such service requires diverse perspectives and a diverse team of both staff and attorneys. As a firm, our ability to deliver extraordinary service and results is premised on providing a safe environment of respect and collaboration where all feel empowered to bring their whole selves to work.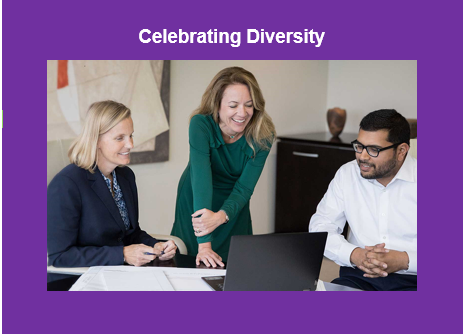 Celebrating the Client Experience
Hirschler lawyers and staff are true stewards of the Hirschler brand. Through every client interaction, they support Hirschler's reputation for quality, integrity and service.
As brand stewards, our job is create a memorable, first-rate experience for our clients. In doing so, we hope to inspire an army of raving fans—client advocates who understand what makes our firm different and share their experience with others.
At Hirschler, we are grateful for the legacy of a strong reputation. We honor the privilege of that legacy by living up to our brand promise each and every day: Invested in our clients and their success, our attorneys deliver smart solutions to important and often-complex legal issues. We are distinct in our deliberate service focus, partner involvement in client matters, and ability to deliver legal excellence and business efficiency.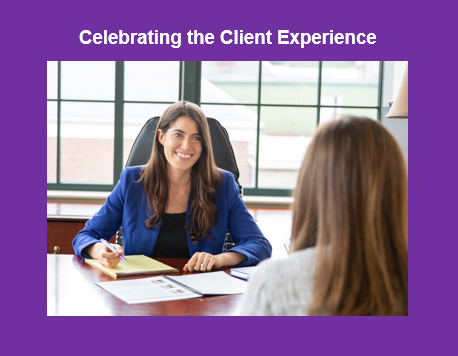 Celebrating Accountability
Hirschler strives to distinguish itself from other firms through a commitment to exceptional service. We recognize that client choice is about more than expertise – it's about a client's favorable experience of our firm from beginning to end.
At Hirschler, our commitment to service is memorialized in a formal set of service standards for which we hold ourselves and each other accountable. As a firm, we compliment and reward our colleagues when their actions exemplify these standards and we promptly address behavior that does not comply. In doing so, we cultivate a client-centered culture and a "firm first" mindset across the organization.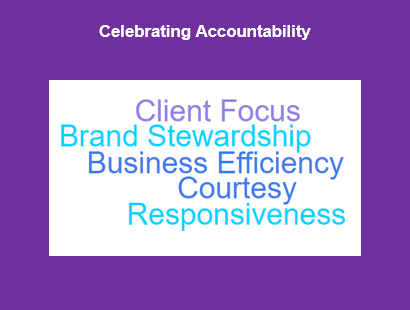 Celebrating Collegiality
Hirschler has long recognized that its clients are best served by a diverse group of lawyers. In 1953, the firm hired its first female lawyer, Elizabeth Taliaferro. Commenting on her experience, Elizabeth offered, "Nobody cared whether I was a woman or not. They just wanted me to do a good job." In the early 2000s, the firm continued its effort to create a diverse and inclusive culture launching the Women's Initiatives Network to promote the development and success of women professionals. In 2018, Hirschler elected its first female president, construction lawyer Courtney Paulk, a leader in a male-dominated profession and industry.
Supported by the efforts of the firm's Diversity and Inclusion Committee, Hirschler employees are encouraged work collaboratively and cooperatively with all members of the firm.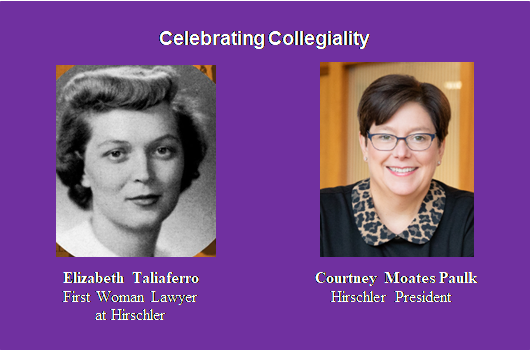 Celebrating Resilience
Over its 75-year history, Hirschler has weathered the tide of economic, political and social change. Key to this success has been the firm's thoughtful approach to growth and financial management. During its early years, Hirschler grew its business and real estate practices strategically. By 1970, the firm had grown to 11 lawyers and became multispecialty with the addition of a litigation practice. Drawing on the success of the Fredericksburg office established in 1993, Hirschler grew again in 2016 through a combination with Leach Travell. The new office in Tysons immediately expanded the firm' bench in key practice areas: bankruptcy, real estate and complex litigation.
Hirschler lawyers and staff contribute to the firm's stability and resilience: growing their base of knowledge, maintaining strong market awareness and pursuing high quality, challenging work that inspires them to reach their professional potential.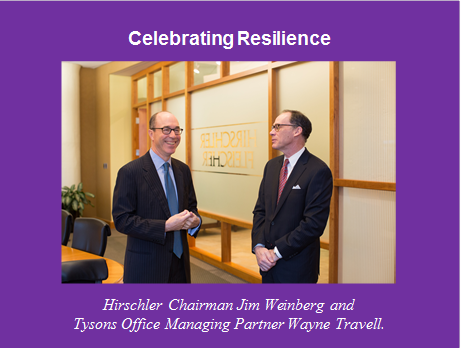 Celebrating Community Stewardship
Hirschler believes in giving back to the communities in which we live and work. In 1993, the firm opened a successful branch office in Fredericksburg and became the town's largest law firm. Within a few years, firm lawyers seize a unique opportunity to relocate the office to a rehabilitated factory building on Jackson. Roughly a decade later, Hirschler's Richmond office would make a a move from the Richmond Fed building to a more permanent location in the rehabbed Edgeworth Building on Tobacco Road.
Reimagining uses for commercial real estate is part of the firm's DNA, but these office moves reflect more than creativity and vision: they are investments in our communities. All Hirschler employees are encouraged to balance a strong commitment to the firm and its clients with a strong commitment to community and family.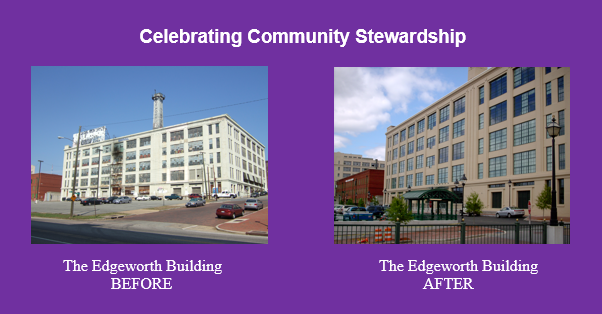 Entrepreneurial Spirit
A strong entrepreneurial spirit has guided the firm since its inception. In the 1940s, founders Ed Hirschler and Alan Fleischer hustled for business, often creating businesses of their own – an insurance company, a bank – to generate more legal work. "Creative capitalism" becomes a defining characteristic of the firm. That same entrepreneurial spirit was alive and well in the 1990s, when firm lawyers begin organizing hedge and private equity funds and matching venture capitalists with companies needing finance – the beginning of the firm's national investment management practice. In 2011, Hirschler partner Seth Ginther helped found the U.S. Industrial Wood Pellet Association (USIPA), a world-class trade association in the sustainable renewable fuels sector. As executive director of USIPA, Seth has split time between the US and Europe for more than a decade – establishing long standing relationships with policy makers, regulators, entrepreneurs, and senior business executives in the European sustainability, ESG and decarbonization sectors.
Since its founding, Hirschler employees have been encouraged to bring fresh ideas and innovative ways of thinking to the firm and its clients.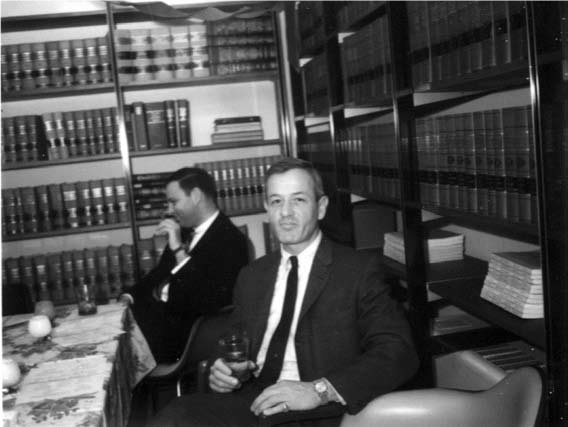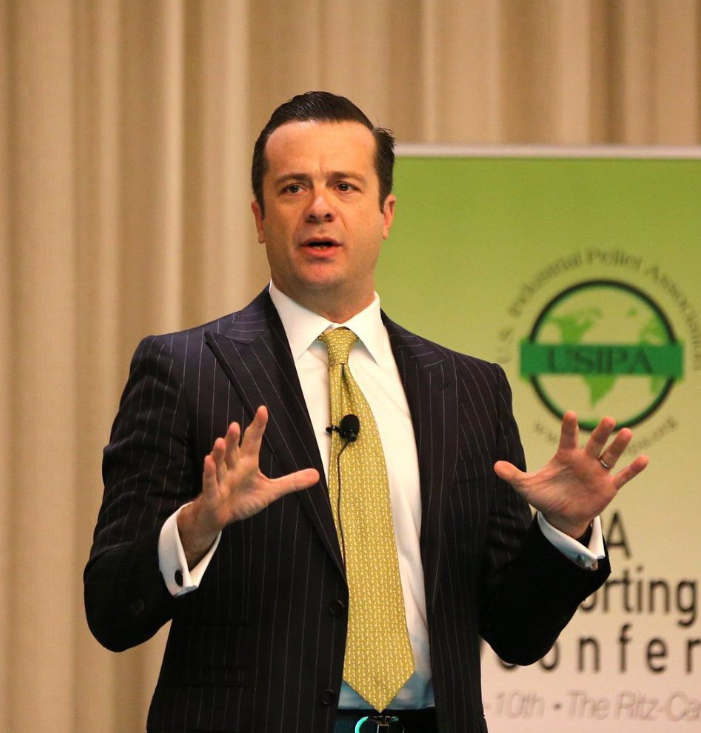 This Day in 1946
December 5, 1946: US President Harry Truman creates Committee on Civil Rights by Exec Order #9808.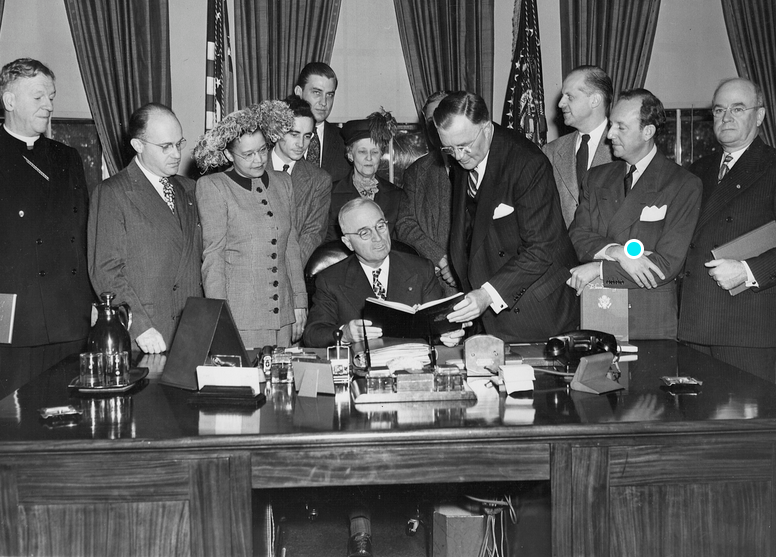 December 12, 1946: A United Nations committee voted to accept a six-block tract of Manhattan real estate offered as a gift by John D. Rockefeller, Jr. to be the site of the U.N.'s headquarters.
December 14, 1946: Stan Smith, American tennis player (US Open 1971, Wimbledon 1972), born in Pasadena, California.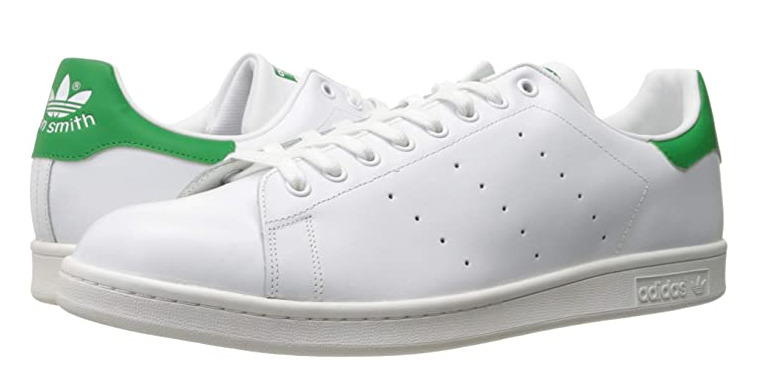 December 20, 1946: Christmas classic "It's a Wonderful Life" film premieres in New York, directed by Frank Capra, starring James Stewart, Donna Reed and Lionel Barrymore.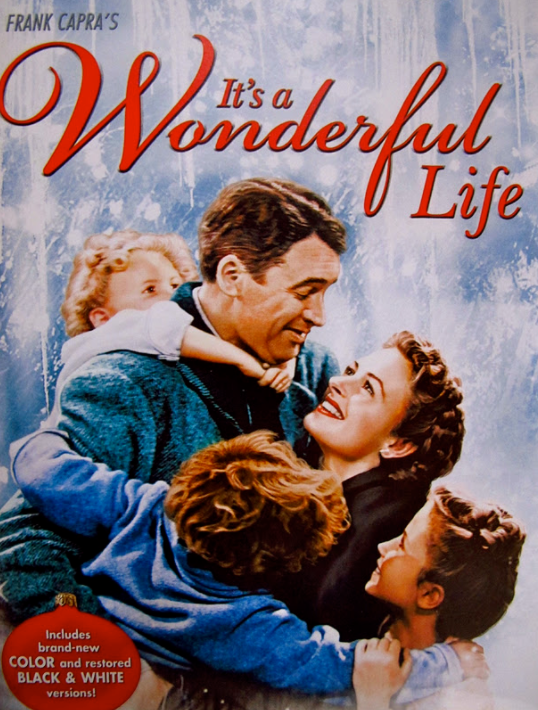 December 31, 1946: US President Harry Truman officially proclaims end of World War II.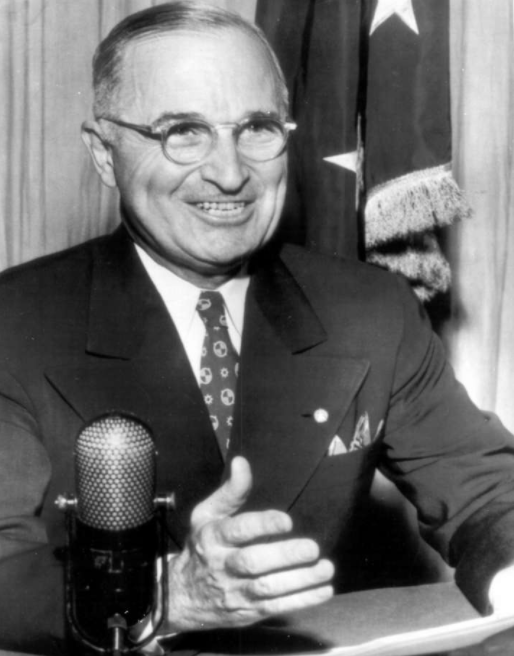 November 1, 1946: First Basketball Association of America game; New York Knicks beat Toronto Huskies, 68-66 at Maple Leaf Gardens in Toronto. The Basketball Association of America, the forerunner of NBA, is founded in New York in June 1946.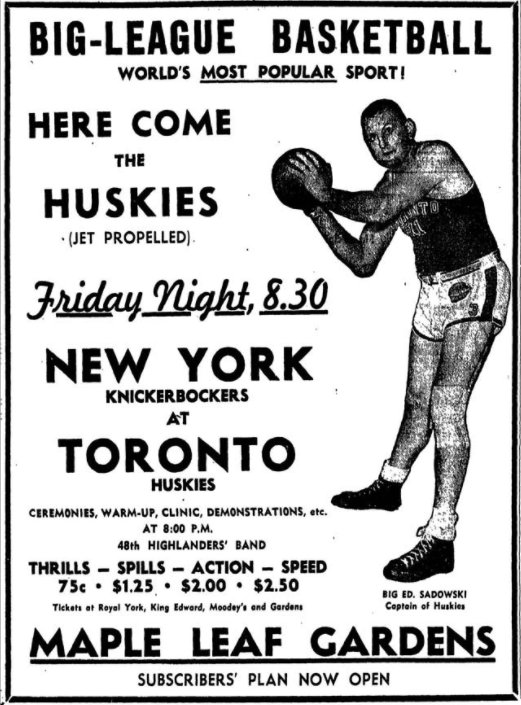 November 5, 1946: John F. Kennedy (Democrat, Massachusetts) elected to US House of Representatives. He would go on to become the 35th president of the United States.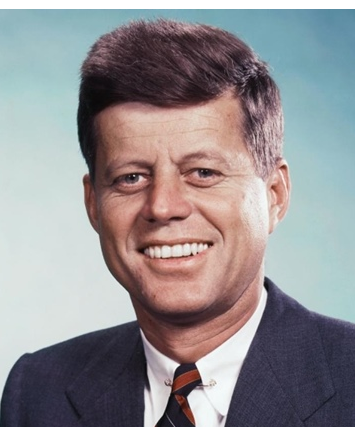 October 9, 1946: First electric blanket manufactured; sold for $39.50.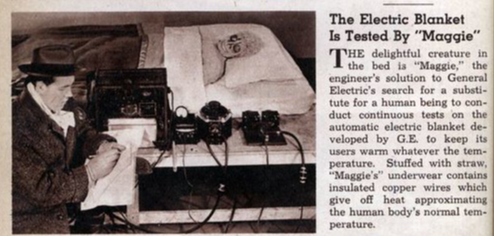 October 24, 1946: A camera on board the V-2 No. 13 rocket, launched from Whites Sands US, takes the first photograph of earth from outer space.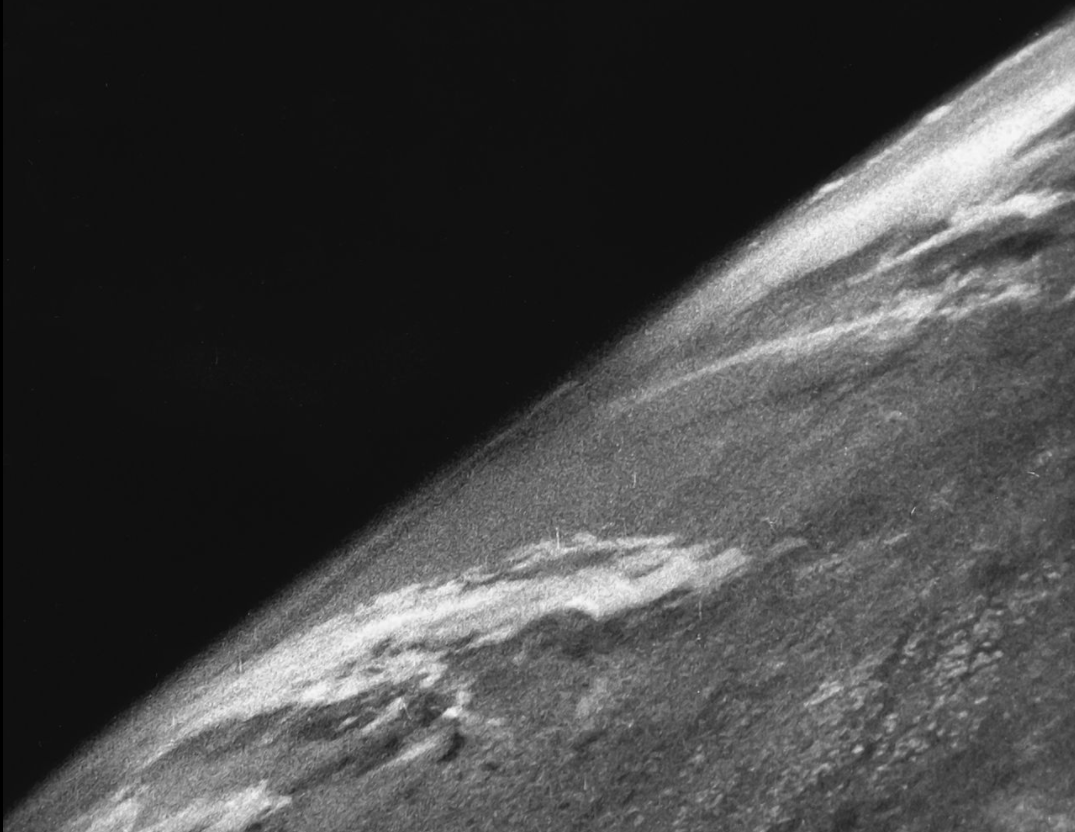 September 5, 1946: Freddie Mercury [Farrokh Bulsara], British singer-songwriter (Queen - "Bohemian Rhapsody"), is born in Stone Town, Sultanate of Zanzibar (d. 1991).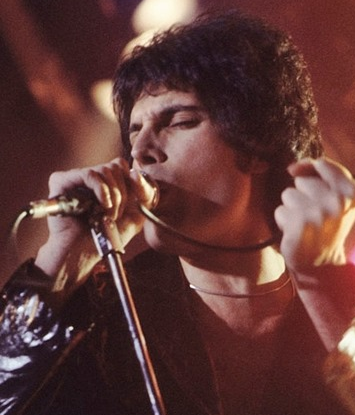 September 11, 1946: 1st mobile long-distance car-to-car telephone conversation. Alton Dickieson and D. Mitchell from Bell Labs, along with future AT&T CEO H.I. Romnes, were part of a team that worked more than a decade to create what they termed a "primitive wireless network" capable of transmitting phone calls. Initially just a huge "party line" (subscribers had to listen for someone to be on the line before placing a call), the network was used sparingly, as it could not handle large volumes. It was also much less than "mobile," as the required equipment weighed in at 80 pounds.

August 1, 1946: US President Harry Truman establishes Atomic Energy Commission (AEC).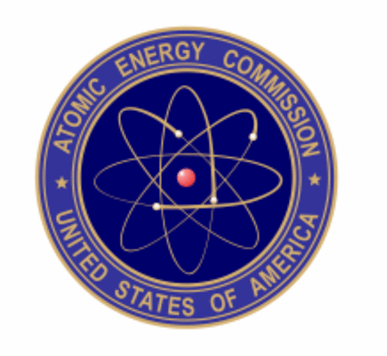 August 19, 1946: William Jefferson Clinton, 42nd US President (Democrat, 1993-2001), is born in Hope, Arkansas.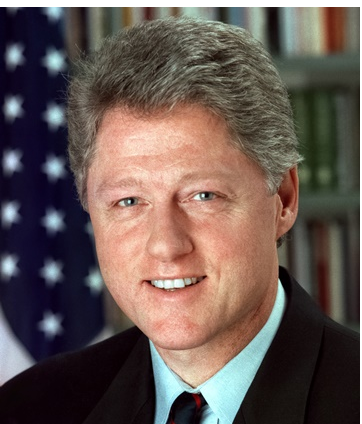 August 23, 1946: "The Big Sleep" directed by Howard Hawks and starring Humphrey Bogart (Philip Marlowe) and Lauren Bacall first premieres.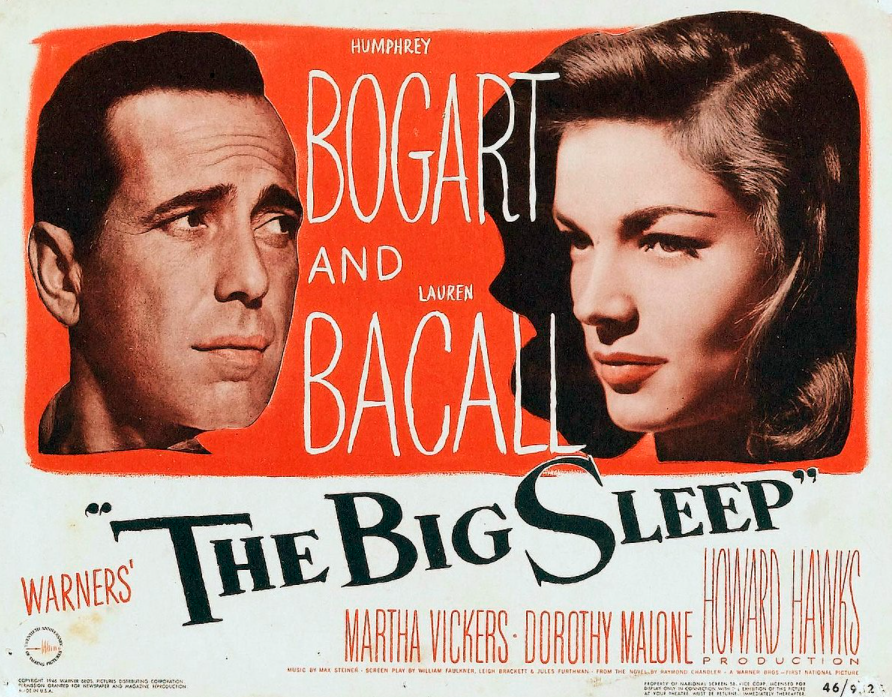 July 5, 1946: French designer Louis Reard surprised the world with a new swimsuit: a daring two-piece swimsuit, now known as a bikini.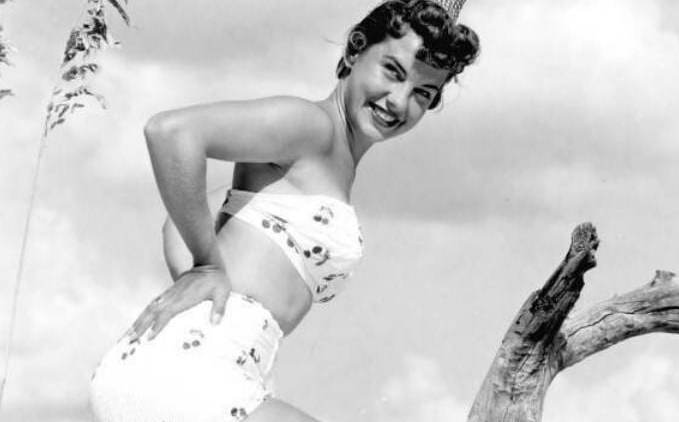 July 6, 1946: George W. Bush Jr, 43rd President of the United States (2001-09) and 46th Governor of Texas (1995-2000) (R-TX), born in New Haven, Connecticut.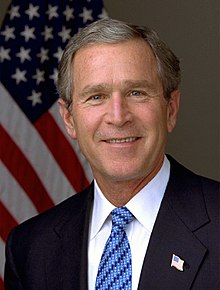 July 14, 1946: Dr. Benjamin Spock's "Common Sense Book of Baby & Child Care" published.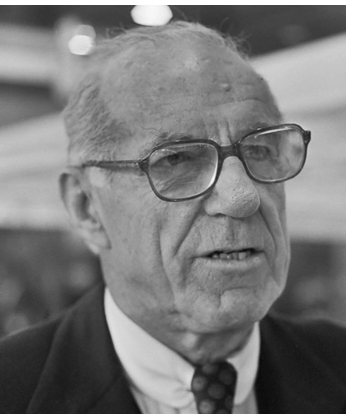 June 7, 1946: US Supreme Court bans discrimination in interstate travel.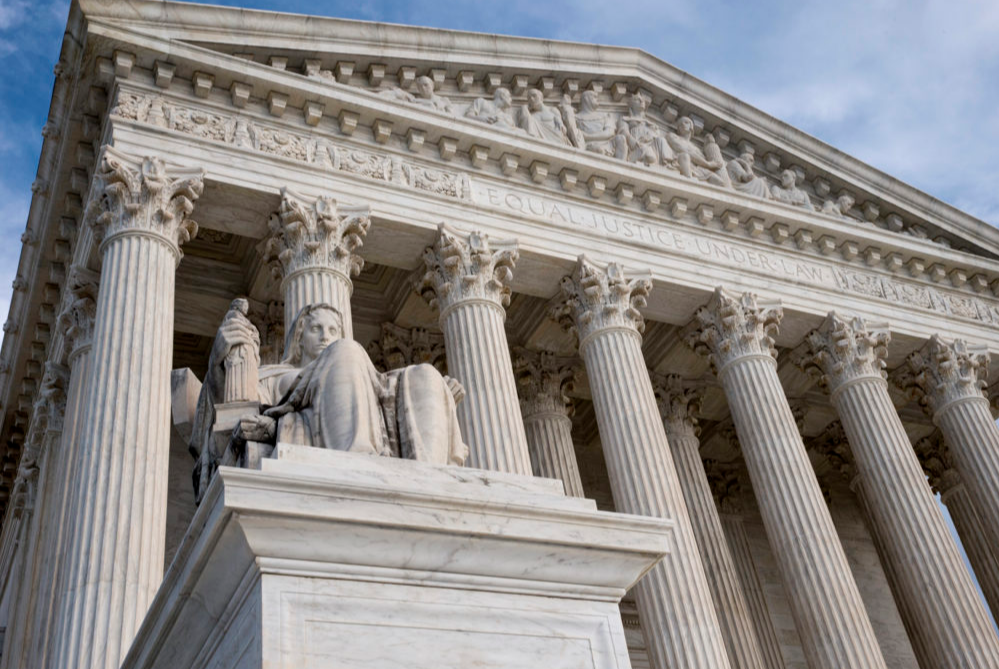 June 13, 1946: 1st transcontinental round-trip flight in 1-day, California-Maryland.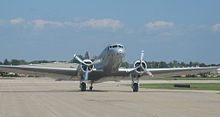 June 14, 1946: Donald Trump, 45th US President, real estate tycoon (Trump Towers) and TV personality (The Apprentice), born in NYC, New York.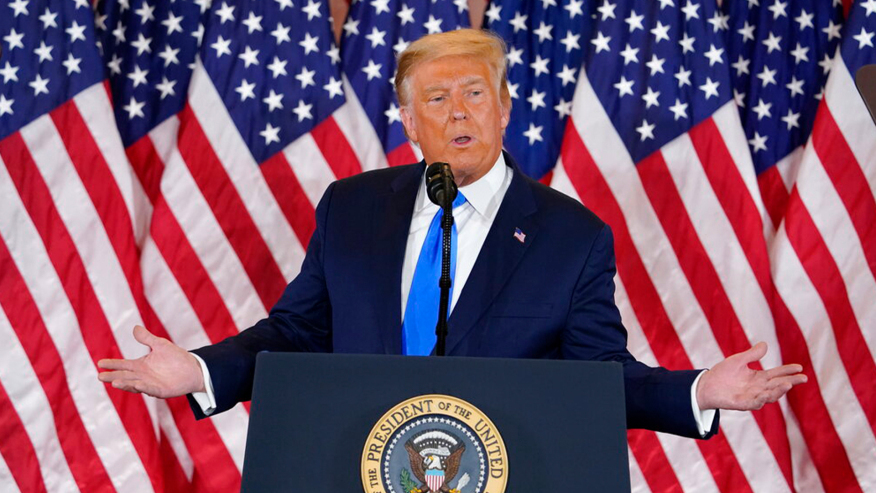 May 9, 1946: 1st hour-long entertainment TV show, "NBC's Hour Glass" premieres.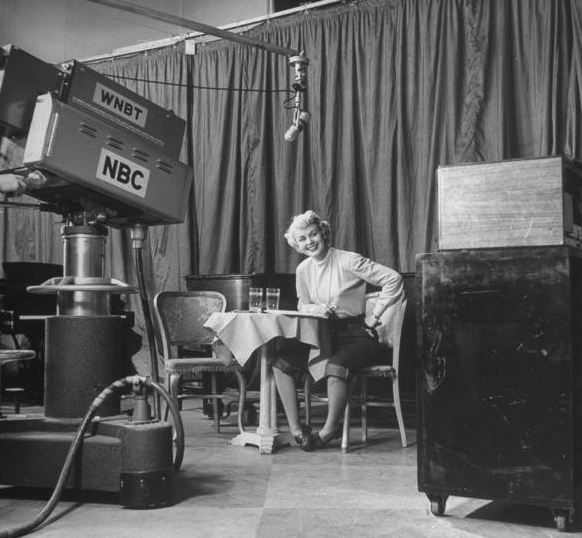 May 16, 1946: "Annie Get Your Gun" musical by Irving Berlin, Dorothy and Herbert Fields opens at Imperial Theater NYC, starring Ethel Merman and featuring "There's no Business Like Show Business."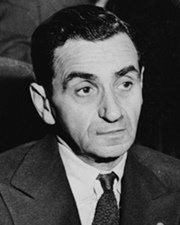 May 18, 1946: Reggie Jackson, American Baseball Hall of Fame right fielder (14-time All Star)), born in Wyncote, Pennsylvania.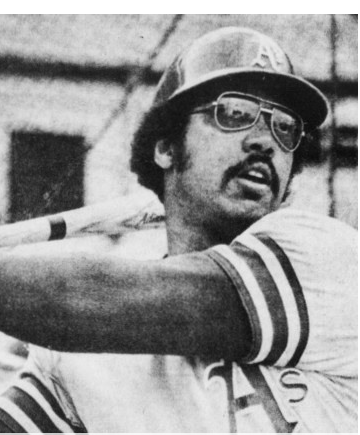 May 28, 1946: 1st night game at Yankee stadium (Senators 2, Yanks 1).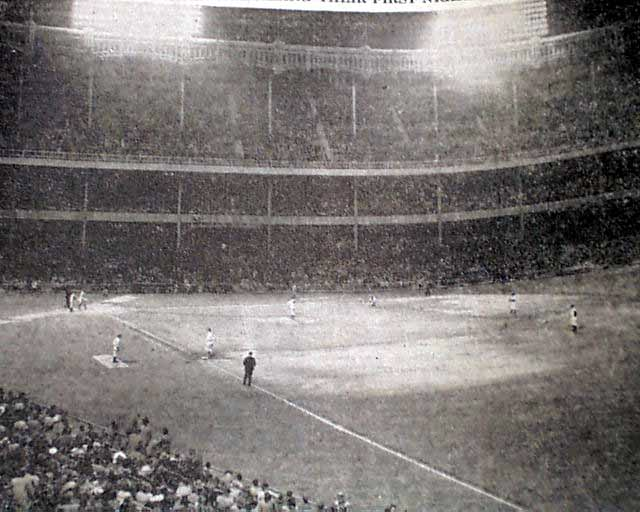 April 7, 1946: 10th US Masters Tournament, Augusta National GC: American Herman Keiser wins his only major title, 1 stroke ahead of tour money-leader Ben Hogan; first Masters in 4 years because of World War II.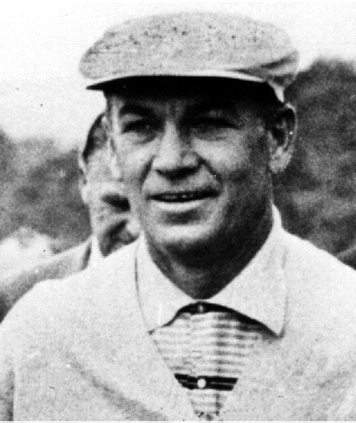 April 12, 1946: LPGA Titleholders Championship Women's Golf, Augusta CC: Louis Suggs wins her first major title by 2 strokes from Eileen Stulb.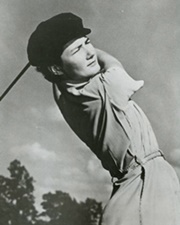 April 15, 1946: The first television network was created, as the DuMont Television Network linked New York and Washington by coaxial cable. A two-hour program featuring speeches, "along with a short play, a quiz show, and a dance routine" were broadcast simultaneously on both stations.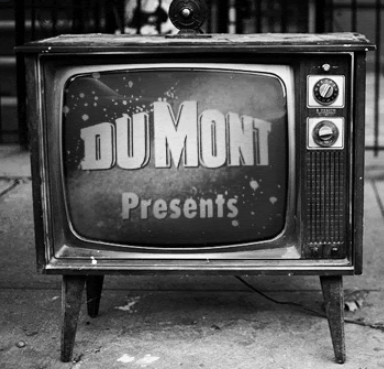 April 16, 1946: The United States made its first successful launch of a V-2 rocket, captured from Germany and tested at the White Sands Proving Ground. In all, 63 were fired for various purposes as part of American development of its own missile program.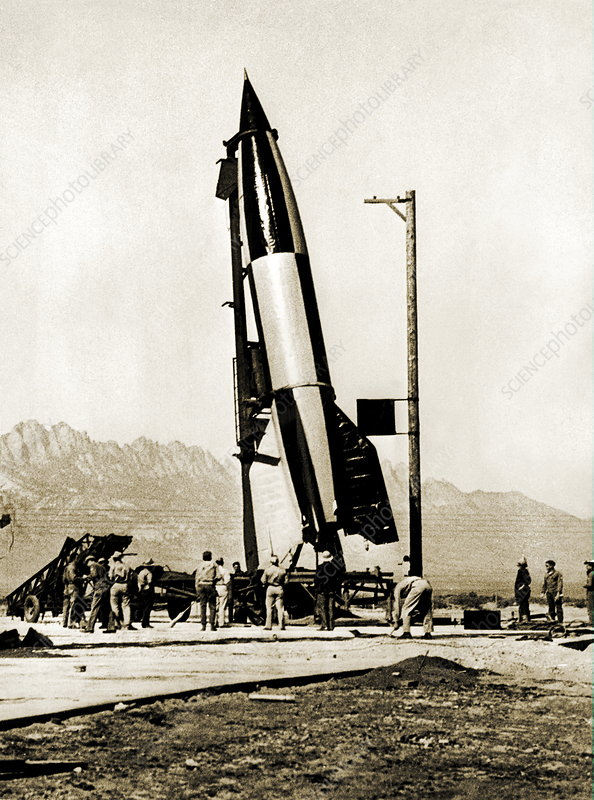 April 18, 1946: The United Nations World Court opens.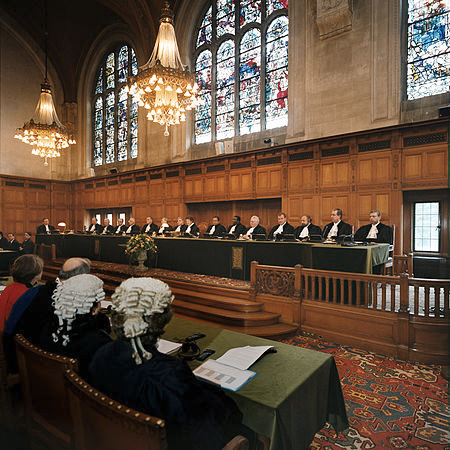 April 24, 1946: In the United States, the Blue Angels stunt flying team was formed by the U.S. Navy.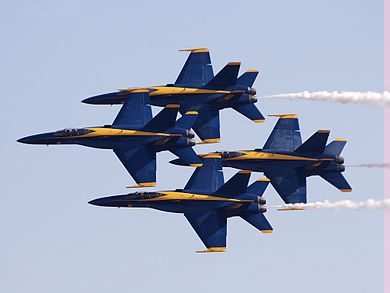 March 5, 1946: Winston Churchill's "Iron Curtain" speech in Fulton, Missouri, popularizes the term and draws attention to the division of Europe. Many people consider Churchill's "iron curtain speech" the beginning of the Cold War.
"It is my duty however, for I am sure you would wish me to state the facts as I see them to you, to place before you certain facts about the present position in Europe. From Stettin in the Baltic to Trieste in the Adriatic, an iron curtain has descended across the Continent. Behind that line lie all the capitals of the ancient states of Central and Eastern Europe. Warsaw, Berlin, Prague, Vienna, Budapest, Belgrade, Bucharest and Sofia, all these famous cities and the populations around them lie in what I must call the Soviet sphere, and all are subject in one form or another, not only to Soviet influence but to a very high and, in many cases, increasing measure of control from Moscow."
March 9, 1946: Baseball legend Ted Williams is offered $500,000 to play in Mexican Baseball League, but he refuses.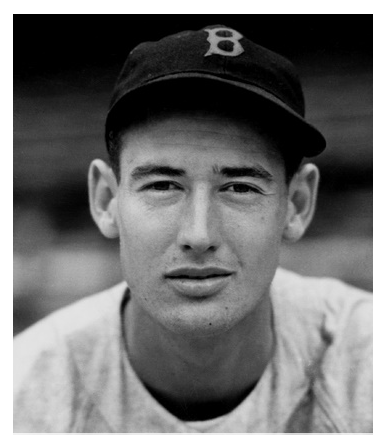 March 22, 1946: The first U.S. rocket leaves the Earth's atmosphere (50 miles up).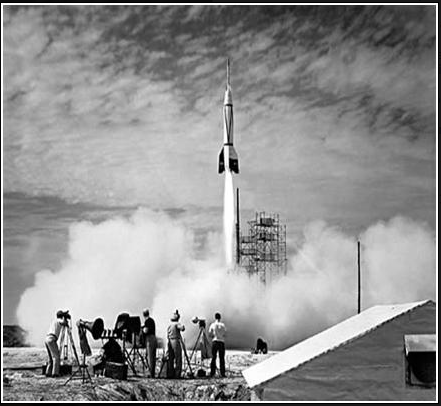 February 16, 1946: The first, commercially designed helicopter is tested in Bridgeport, Connecticut.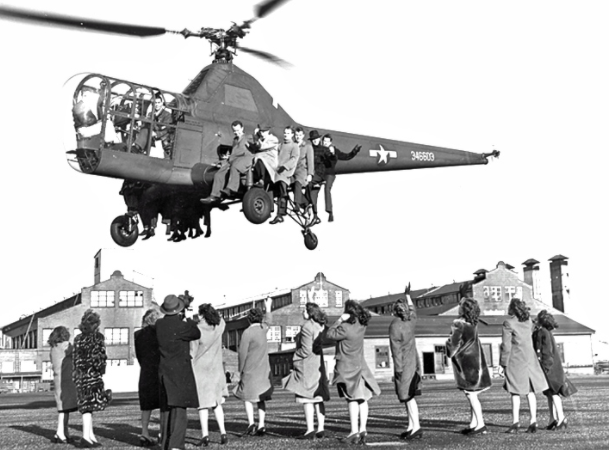 Tributes
Each month, we will celebrate the life and legacy of Hirschler leaders past and present.
December
Honoring Barry Hackney
Barry Hackney has been a trial attorney in Virginia since 1970 and participated in many jury and non-jury cases as well as administrative hearings, arbitration proceedings, mediations and appeals involving contract disputes, commercial and real estate matters.
Barry was born in Norfolk, Virginia in 1946. He graduated from Hampden-Sydney College in 1967, where he was known to fish for large-mouth bass and hunt squirrels in his spare time. Barry then matriculated at the University of Richmond Law School where he met Ginna on the first day of class and carried Ginna's law books to her car, a strategy that worked well as she and Barry were later married.
Upon graduation from law school and admission to the Virginia State Bar, Barry practiced insurance defense litigation with the May Garrett firm in Richmond. In 1973, Everett "Buddy" Allen, who had been recruited by Ed Hirschler and Alan Fleischer from McGuireWoods to start Hirschler's litigation section, recruited Barry to join Hirschler and start a construction law and litigation practice. Barry did so enthusiastically and successfully, and today the "Hackney Team" comprises one of the state's largest, most comprehensive construction law practices. Barry pioneered the firm's participation and leadership in construction industry professional organizations such as Associated General Contractors, Construction Specifications Institute, and the ABA's Forum on the Construction Industry.
Barry has been recognized for his excellent service from various highly regarded organizations. He was selected for inclusion in Best Lawyers in America in 2005-2006 for Construction Law; and again in 2012, 2014-2022 for Construction Law and Litigation – Construction. He was also named Best Lawyer's "Richmond Lawyer of the Year" for Litigation-Constructions in 2017. Additionally, he was named to "Legal Elite" (Construction) by Virginia Business in 2003-2004, 2007-2010, 2013-2014 and 2017.
Through the Trade Associations and Virginia State Bar CLE Programs, Barry has spoken on topics ranging from contract administration and project management to Uniform Commercial Code and its applicability in construction. Barry has served as a distinguished board member for a number of organizations. He served on the Board of Governors, Construction Law Section, for the Virginia Bar Association in 1982-1985. He also served as Executive Council of the Construction and Public Contracts Law Section for the Virginia State Bar in 2000-2006. Additionally, he is a current member of the Associated General Contractors of Virginia, since 1980); Associated Builders and Contractors, since 1996; and Virginia Land Title Association, since 2002.
Barry has taught multiple Hirschler lawyers how to practice law and prepare a case for trial, including John Walk, John Ivins, Webb Moore, Courtney Paulk, Nate Story, Kelly Bundy and Liz Burneson. Ginna Hackney became the first woman partner at the firm now known as Hunton Andrews Kurth, and Ginna and Barry are the parents of three accomplished sons, three smart and beautiful daughters-in-law and 10 grandchildren. Barry Hackney is a "lawyer's lawyer" and a Hirschler legend.
November
Honoring Charles (Rick) Witthoefft
Charles F. (Rick) Witthoefft has more than 45 years of varied trial experience in state and federal courts, often in complex commercial matters, including contract, business tort, securities, entity governance, insurance, land use, professional liability, administrative law, and trust and estate cases. He joined Hirschler in 1972, is a former president of the firm and currently serves as Hirschler general counsel.
Along with Buddy Allen and Barry Hackney, Rick built Hirschler's Litigation Section virtually from scratch and served as chairman of the section for many years. He "first chaired" many of the firm's most significant litigation engagements including the Fairfax zoning litigation and the Parsons litigation - and trained the firm's current "senior" trial attorneys in connection with these cases. Rick also was a tremendous ambassador for the firm among the Richmond Bar and was the first firm member to serve as president of the Richmond Bar Association.
Rick earned his B.A from Hampden-Sydney College in 1968 and his J.D. with honors from the University of Richmond Law School in 1972. While in law school, Rick was executive editor of the University of Richmond Law Review, and a member of the National Moot Court Team, the McNeill Law Society and Omicron Delta Kappa Leadership Fraternity.
Rick is a fellow of the American College of Trial Lawyers, a past president of the Richmond Bar Association, and a founding member of the John Marshall Inn of Court. He is a lecturer in continuing legal education programs sponsored by the Virginia State Bar and the Richmond Bar Association, and has served as a member of the faculty of the Virginia State Bar Professionalism Course. Recognized for many years as a "Leader in the Field" for General Commercial Litigation in Virginia (Chambers USA), Rick also is listed among the The Best Lawyers in America for commercial litigation.
Rick's varied interests and involvement in civic, community and charitable affairs include service as past president of St. Luke Lutheran Church, past chair of the board of trustees of St. Michael's Episcopal School and past chair of the board of trustees of Trinity Episcopal School. He is a past chair and member of the Parents Council of James Madison University.
October
Honoring John R. Walk
Since joining the firm in 1980, John has served as lead counsel in a wide variety of litigation matters ranging from routine business disputes to bet-the-company litigation. He is equally at home in court, before judges and juries, and in closed-door alternative dispute resolution proceedings, including arbitration, mediation and judicial settlement negotiations.
Perhaps his greatest impact on the Virginia business and legal communities stems from his extensive work before the Virginia Supreme Court. John is one of the rare lawyers who has argued more than 20+ cases before the state's highest court. In fact, on one occasion he successfully presented two separate cases before the Supreme Court justices on the very same day, both of which resulted in positive outcomes for his client. This record is even more notable in light of how difficult it is to have an appeal heard before the Court at all, since it grants writs in less than ten percent of the cases appealed to it.
A number of national and regional legal ratings agencies and publications have recognized John for his excellent service, substantive knowledge and positive client results. Since 2017, John has been named a "Leader in the Field" for Litigation: General Commercial in Virginia by Chambers USA. Since 2008, John has been listed in the highly regarded peer-review publication, Best Lawyers; most recently, in the 2021 edition he was named as "Lawyer of the Year" for Eminent Domain and Condemnation Law. Lastly, in 2020, John was inducted as a fellow of the American College of Trial Lawyers.
Outside of his client work, John is extremely involved in the community. John has been a distinguished educator for several decades and has taught individuals at every stage of their legal careers: from second- and third-year law students, to practicing lawyers and newly appointed and elected judges. John is listed as an adjunct professor of law at the University of Richmond T.C. Williams School of Law, where he taught courses on Virginia civil procedure and advanced trial advocacy for 20 years. Additionally, John is active in civil justice reform as a member of the Steering Committee and former Chair of the Boyd-Graves Conference.
Additionally, John mentors youth through engagement in sports and service organizations. John has been actively involved in the Boy Scouts of America. On behalf of the organization, he has served in virtually every leadership position, from den leader and cub master, to assistant scoutmaster and as a member of the troop committee. He has led numerous Boy Scout expeditions over the years, including outdoor adventures such as, backpacking, rock climbing, mountain biking and white water rafting throughout Virginia and West Virginia. John participated in a 65-mile trek to Philmont twice in his life - first as a 14-year old and second, 30 years later, as a scout leader. He also served for many years as a certified youth-swimming official for the James River Aquatic League as well as Virginia High School League.
Lastly, at his church, John and his wife have served in numerous volunteer positions over the decades. Currently, he offers his talents as a guitarist and plays during the congregation's contemporary worship services.
September
Remembering Elizabeth (Betty) Hoefer (1945-2012)
Betty Hoefer joined Hirschler in 1975. Originally hired to provide secretarial support to partner Bob Cox and other attorneys, Betty went on to manage Hirschler's billing and collections department, and to lead the firm's records management effort. She was a diligent and dedicated worker.
During her 36 years at the firm, Betty formed many long lasting relationships and was a matriarch of the Hirschler family. Selfless with her time and energy, she supported her colleagues through life's ups and downs: one day, attending the recital of a coworker's child or bringing in a crate for someone's new puppy; the next, leaving a note of good cheer for someone battling health or family concerns. A colleague shared, "I never knew her door to be closed and I never knew her to turn anyone away because she was busy or stressed."
Outside the office, Betty enjoyed music, crafting, cooking, reading, gardening, group Bible studies, the beach and relaxing at her river house. She was a faith-filled woman who exemplified an abundant life — overflowing with love and devotion for her family and friends. Betty lent her time, talents and resources to her family, church, colleagues and friends, as well as to a variety of faith-based and community organizations, including Legal Information Network for Cancer (LINC).
Betty was a cheerleader for those battling cancer as she did. She had a special fondness for LINC's "It's in the Bag" event, contributing multiple bags to the fundraiser each year. Upon her passing, Betty's Hirschler friends created and donated an "Eclectic Elizabeth Bag" filled with a variety of unique gifts.
Hirscher is pleased to remember Betty Hoefer. We honor her memory by supporting one another and performing random acts of kindness.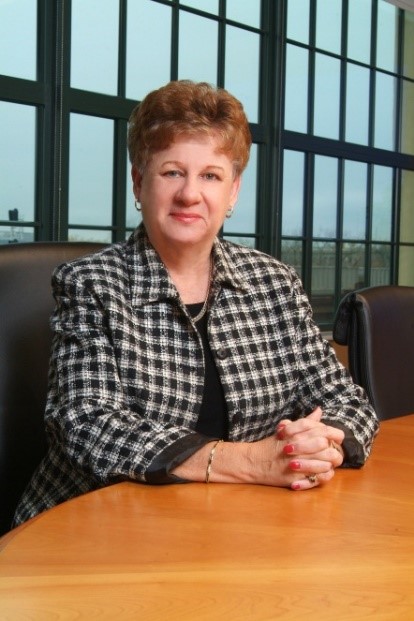 August
Remembering Gary M. Nuckols (1950–2018)
Hirschler partner Gary M. Nuckols was a Fredericksburg native who left a deep imprint on the community through his legal and volunteer work. Gary joined Hirschler in 2001 and is remembered by clients and partners as a tireless and meticulous advocate in business and commercial real estate. In his role as legal adviser to the University of Mary Washington Foundation, he oversaw the purchase of the Park & Shop center and other properties and the creation of Eagle Village, a mixed-use development connected to the campus by a pedestrian bridge. His community work included stints as president of the Fredericksburg Rescue Squad, the Fredericksburg Area Bar Association and the Dominion Club. He served as chairman of the board of the Fredericksburg Area Chamber of Commerce, board member of the Cal Ripken, Sr., Foundation and treasurer of the UVA Club of Fredericksburg. Gary passed away in April 2018 at the age of 68.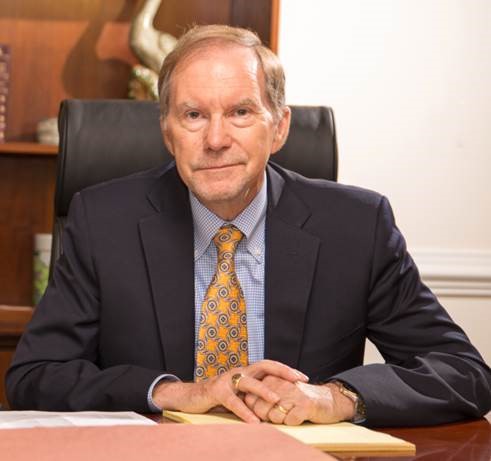 July
Honoring James L. Weinberg, Chairman
Under Jim Weinberg's leadership as president (2004-2018), Hirschler proved that a mid-sized Virginia law firm can compete with big New York firms while remaining homegrown with deep roots in the community.
By concentrating on several practices, such as mergers and acquisitions, real estate, investment management and construction, Hirschler found itself across the table from Am Law 100 firms in transactions valued at as much as $1 billion. This success is the consequence of a carefully thought-out strategy of a management group, led by Jim, and their reading of client expectations following the Great Recession.
It doesn't hurt that Jim gained his understanding of New York competitors from the inside. After graduation from the University of Virginia School of Law in 1987, he was a law clerk for Federal District Judge Richard L. Williams and then joined Debevoise & Plimpton, a New York firm that now has more than 600 attorneys. He worked out of the firm's New York offices and later worked for the firm in its Paris office. It was heady stuff, and Jim loved the experience. For a time, he even thought it might be his career destination.
While Jim grew up in Richmond, the area wasn't much of a draw after school. His father is Jay Weinberg, a renown zoning and real estate lawyer who was a mainstay of Hirschler until his retirement. The younger Weinberg wanted to prove himself beyond what he regarded as the narrow boundaries of his hometown. But the all-encompassing demands of practicing in New York and the prospects of raising a family in Manhattan led he and his wife to look for a smaller city where they could build a life and careers. They started with a list of cities, checked them out, and – surprise – Richmond came out at the top of the list.
Jim's New York experience and connections served him well in helping to build a robust practice around M&A, capital funding for middle-market businesses and other services to closely held companies. He's posted impressive transactional credits while juggling management duties for the firm. He has managed transactions valued up to $500 million. He's also built a reputation as a go-to lawyer for Virginia gaming industry matters.
As he built his practice, Jim's intellect and consensus-driven approach was making an impression on his colleagues and in 2004 they asked him to step into the role of president. Managing the firm while handling high-stakes transactions is a juggling act, but Jim says staying close to clients has made him a better leader. He noticed early on that the Great Recession prompted a tidal shift in how corporate buyers of legal services viewed law firms and determined that Hirschler was positioned to take advantage of it.
His tenure as president was marked by steady, incremental growth; the opening of the firm's third office in Tysons in 2016; and a major rebranding and website redesign effort in 2018.
Jim believes lawyers have an obligation to give back to the community and he leads by example, devoting hundreds of hours each year to charitable causes. Jim is a past chairman of the Richmond Jewish Foundation, where his biggest project was a national education program that teaches synagogues and other nonprofits how to build endowments. Richmond has been a pilot project for the program. He is a past president of the Jewish Community Federation of Richmond and the Central Virginia Food Bank, where he helped drive the merger of the Food Bank and Meals on Wheels, and expand the reach of those organizations that serve hungry children and families in 34 Virginia counties. Jim also sits on the boards of the Valentine Museum, the Robert Russa Moton Museum for Civil Rights in Education, Beth Sholom Senior Living and the Jewish Community Federation of Richmond. He is also a trustee of Congregation Beth Ahabah.
June
Honoring Michael H. Terry, Executive Vice President Emeritus
In a distinguished career spanning more than 35 years, partner Mike Terry is renowned for pioneering work in commercial real estate transactions, leading complex multimillion-dollar work-outs involving the consolidation and restructuring of multiple operations and companies in the United States and Canada, representing owners, principal and lending institutions.
The helmsman of high-profile transactions and real estate developments in Richmond and throughout Virginia and the Southeast, Mike led the construction loan work out of Riverfront Plaza; served as owner's counsel in connection with the structure of the Gateway Plaza project in downtown Richmond; as general real estate and finance counsel for ARCAP, LC, a large manufactured home community (MHC) investor operator with offices in Tidewater; for SunTrust Bank, representing the lead agent in construction loan financing for the MeadWestvaco Building in downtown Richmond; and for Fairfax County government, developing and leasing office buildings at Fairfax Government Center.
Among peers around Richmond, Mike is exceptionally well known and regarded as a "lawyer's lawyer". A legal titan whose skill and experience brings a sterling touch to the transactions and relationships he manages. Among accolades and high-profile clients, he remains profoundly low-key, even humble.
Joining the firm in 1982, Mike is a past chairman of the real estate section. He was appointed to the Hirschler board of directors in 1995, and served as executive vice president from 2002 to 2018, during which time he played a key role in the firm's financial and strategic planning.
A deep and abiding drive to purposefully serve clients is Mike's ultimate motivator. "You've heard the adage about taking ownership of your work," he says. "For me, it goes far beyond. I feel deeply and personally responsible for my clients' success. They hire me to make sure that I effectuate their needs. I'm not sure if that's a sense of duty or a sense of pride, but you have to be driven by a desire to make clients successful in achieving their goals. It's what motivates me."
Mike's contributions to the legal profession are many. He is the author of four chapters in Contract Law in Virginia, published by the Virginia Law Foundation and numerous published articles pertaining to real estate. Until recently, he lectured on real estate matters for the Virginia Bar Association. Other contributions – advancing the profession through principles of excellence – are measured by the single gold standard of his enduring success in client relationships that span decades.
Mike's talents and interests might have led to an entirely different end  one in stark contrast to the elegant practice of law. The love of equestrian sport, both Western and English, proved a life-long pursuit and a natural segue for his pro-bono work with the Virginia Reining Horse Association. He and his wife spent many years breeding and training quarter horses, and enjoying family time with their children who grew up riding and showing horses.
May
Honoring James W. Theobald, Chair Emeritus
The most important skill Hirschler Chair Emeritus Jim Theobald uses as a real estate and land use lawyer is one he didn't learn in law school. In real estate transactions where developers, zoning and government authorities, neighborhood groups, historic preservation advocates and other stakeholders have competing interests, Jim has built a reputation for helping everyone find common ground. Whether it's finding locations for national big-box retailers or advising Richmond area leaders on land use policies, Jim is usually the man-in-the-middle bringing all sides together.
Jim received an early lesson in balancing the interests of historic preservation and developers as a third-year associate at Hirschler in the early 1980s when he supported a client's rescue of Richmond's Jefferson Hotel, the century-old landmark that was a virtual palace when it opened in 1895 and then fell into decline after World War II. The complex deal was an early lesson in finding consensus; he recalls that even the orientation of Thomas Jefferson's statute in the lobby had to be negotiated.
Another example of finding consensus was Richmond's Innsbrook development, a nationally recognized mixed-use project that has unfolded in stages for years. One of Jim's clients owned a third of the park and wanted to develop a mixed-use urban development to include residential and retail uses within what was then still mostly an office park. Some single-family homes and businesses in the area initially opposed the idea. Jim proceeded in deliberate fashion, gradually clarifying the plans, listening to neighbors' concerns and working with the county's land use staff, and today Innsbrook is considered a model for bringing urban live-work-play concepts to a suburban office development.
Jim earned his undergraduate degree from The College of William & Mary and his law degree from Cleveland-Marshall College of Law. He spent three years proving himself – and learning about real estate – at a title company before joining Hirschler in 1980. Approximately 12 years later, the firm asked him to be president. He served in that role, essentially the firm's chief operating officer, for 12 years before becoming chairman in 2004 and chair emeritus in 2018.
Locally, Jim is a longtime member of the Richmond Bar Association, the Home Builders Association of Richmond and the Richmond Real Estate Group. He is also a member of the Virginia State Bar, American Bar Association and the prestigious American College of Real Estate Lawyers. In a career spanning three decades, Jim has been actively involved in and served on the boards of the Richmond of Chamber of Commerce and Venture Richmond.
As one of the premier development lawyers in the nation, Jim has been honored many times by his peers and clients. Notably, he has been top-ranked by Chambers USA for commercial real estate in Virginia since the guide's inception in 2004. Once dubbed "the dean of land use," by the Chambers USA editorial team, Jim's prominence helped the firm's real estate practice maintain its Band One ranking for 15 consecutive years.
Outside the office, Jim has many interests and hobbies. A longtime supporter of injured veterans and a certified yoga instructor, he taught yoga classes at the local Veterans Administration hospital for many years. From humble beginnings as a bass player with a junior high garage band, he has continued to play in a classic rock band for more than 30 years helping individuals and organizations raise funds for charity. In 2015, Jim and his wife Mary joined four other couples to create Valley Road Vineyards, an award-winning winery near the mountains of western Virginia.
April
Honoring Jay M. Weinberg
Adapted from Hirschler Fleischer: The History of a Law Firm, Mary Miley Theobald, 2007
Born in Norfolk in 1932, Jay M. Weinberg grew up in Portsmouth and received his Bachelor of Arts in English (1954) and legal education at the University of Virginia. The Army interrupted his first year of law school with a call to active duty, and he served two years in the counterintelligence corps before being honorably discharged as a captain. When he finished law school in 1959, he joined the three partners at Hirschler, Fleischer and Sadler. He became a partner in 1962, and in 1975 the firm's name was changed to Hirschler Fleischer Weinberg Cox and Allen.
Jay was hired primarily for his tax law expertise, but he was soon drawn into the real estate world when neither Ed Hirschler nor Alan Fleischer was available to handle a client's zoning matter. Over the years, he handled virtually all forms of sophisticated real estate matters, including the acquisition, rezoning, financing, syndication, development, adaptive reuse, and sale of major residential communities, apartment complexes, shopping centers, industrial parks, and office buildings. "Jay understood the needs of all parties to a dispute," says Jim Theobald, "and he would cobble together a consensus where everyone felt they had achieved their goals. He did this without raising his voice, pounding the table, or threatening anybody."
Vitally interested in education, Jay served nine years as a member of the board of Virginia Commonwealth University and two as its rector, and as vice-chairman of the board of the Medical College of Virginia Hospitals. As a member of both boards, he was intimately involved in the strategic planning for the University and the VCU Health System, and the establishment of the Virginia Biotech Research Park and VCU's School of Engineering. Unselfish with his time, money, and expertise, he served on many nonprofit boards and was president of the Jewish Community Federation of Richmond and the Jewish Community Center.
Jay officially retired in 2009 and currently resides in Florida with his wife Marilyn.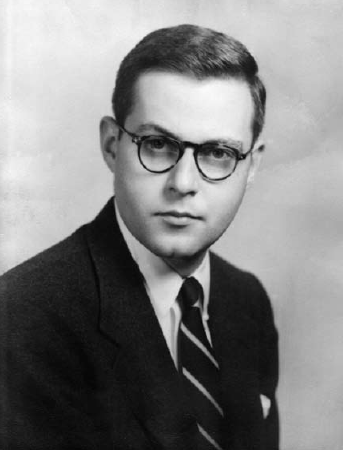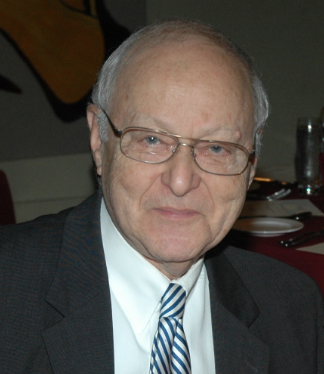 March
Remembering Robert A. (Bob) Cox, Jr. (1923–2020)
Robert A. Cox Jr., joined Hirschler in 1965, becoming the third partner in the small firm that also had three associates. During the 1970s, which were years of dramatic growth for the firm, he was the first managing partner. In 1975 his name was added to the firm when it became Hirschler, Fleischer, Weinberg, Cox & Allen. Mr. Cox served as managing partner a second time in the 1980s.
Among his clients were some of Richmond's most influential real estate developers. He handled legal work for the area's largest corporate center, Innsbrook. Bob was fond of saying that the last time he personally performed a title examination was for the land which ultimately became Innsbrook. He recognized that the practice of law is a service, that there is no substitute for timeliness, and that a lawyer should be readily accessible to his clients. These standards were always evident in his practice and became imbedded in the culture of the firm. Bob continued to handle matters for long-time clients well into his 90s.
Jim Weinberg offered a moving tribute to Bob in the Summer 2020 issue of Senior Lawyer News published by the Virginia State Bar. Jim highlights Bob's long and distinguished career at Hirschler and his many contributions as leader, mentor, teacher and colleague. The article is warm remembrance of the firm's former leader, a man who was passionate about the his family, his clients and the practice of law. Click here to read Jim's tribute.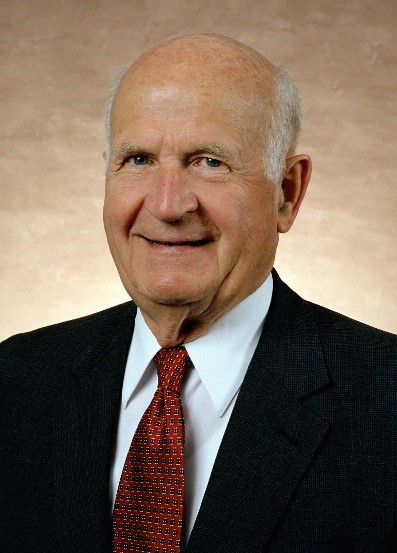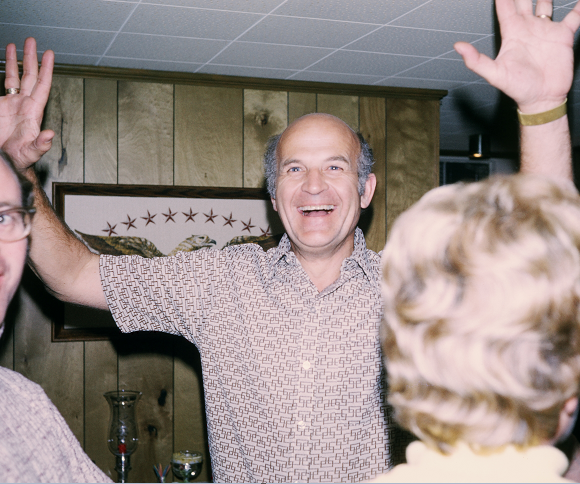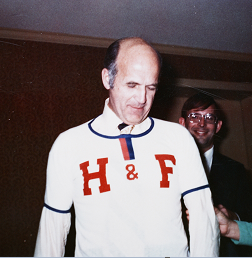 Milestone Celebrations
Thanksgiving Breakfast
On November 24, 2021, Hirschler hosted its annual employee breakfast to celebrate Thanksgiving. The team at Groovin' Gourmets put on a lovely buffet for all to enjoy.
The Hirschler family wishes you a safe and relaxing holiday.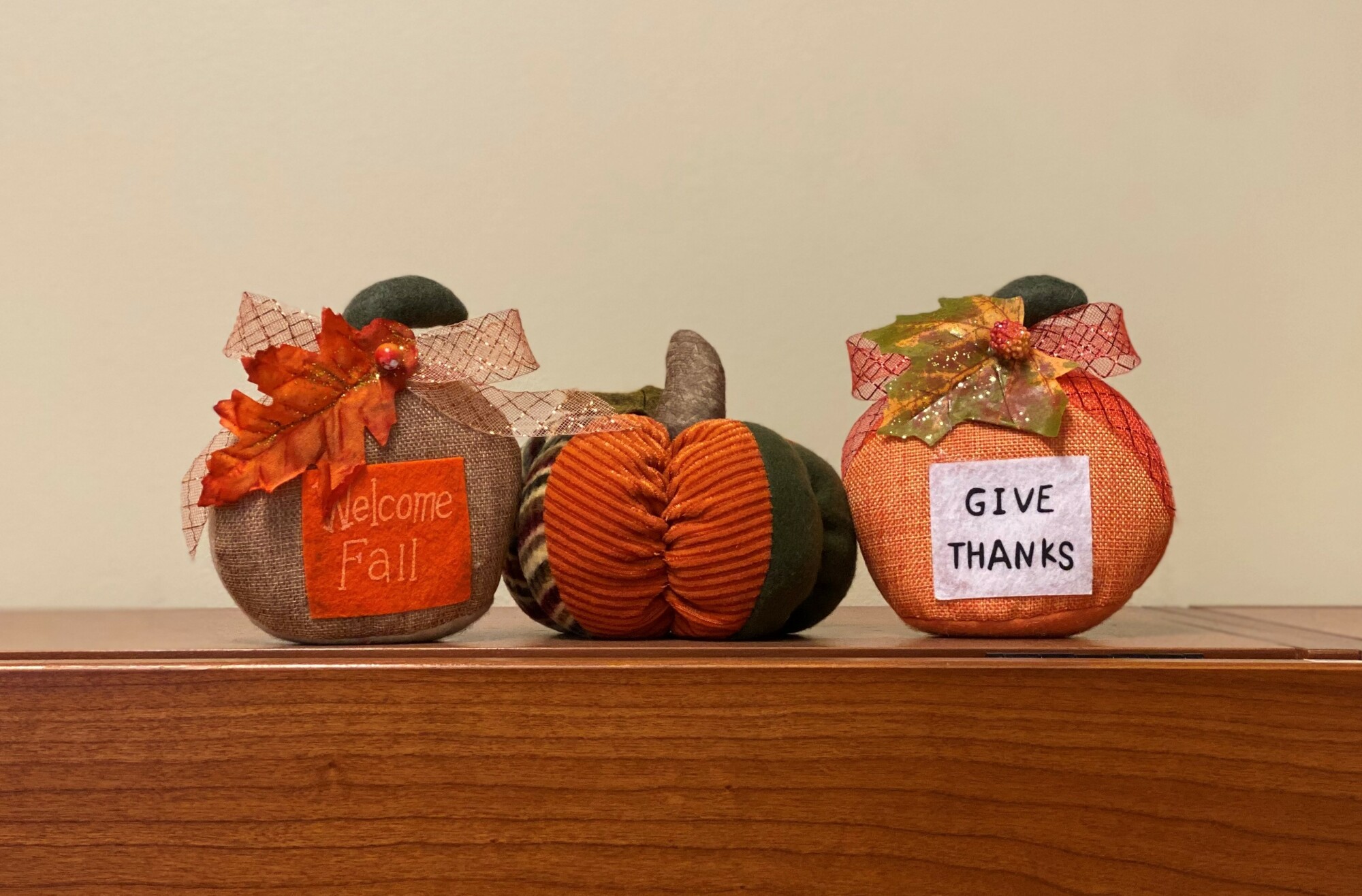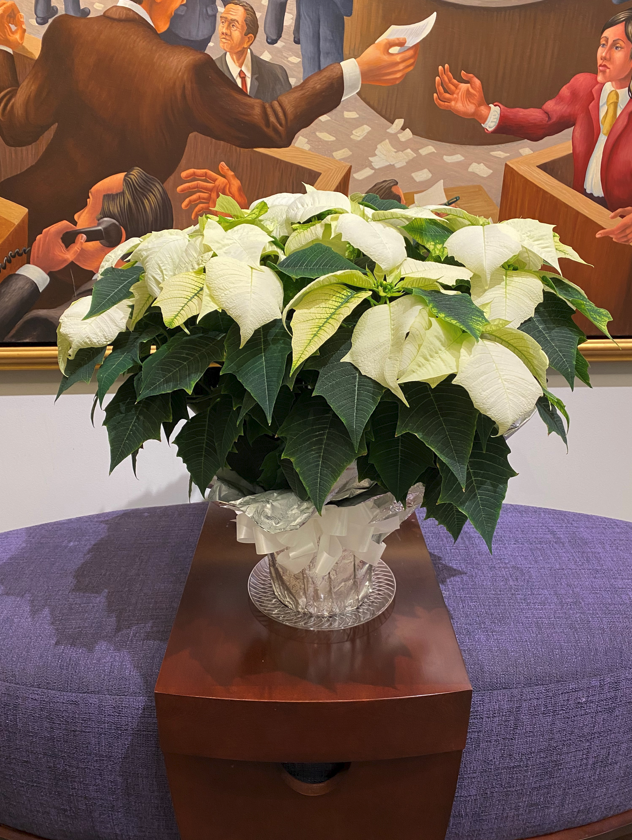 Spirit Day 2021
Hirschler Celebrates 4th Annual Spirit Day
On October 15, 2021, Hirschler hosted its fourth annual Spirit Day. The Spirit Day tradition began in October 2018 with the rollout of the firm's new brand identity and redesigned website.
Hirschler employees marked Spirit Day 2021 with lunch, internal bingo and a fiercely competitive decorating contest. A big "thanks" to all who made the annual event so special.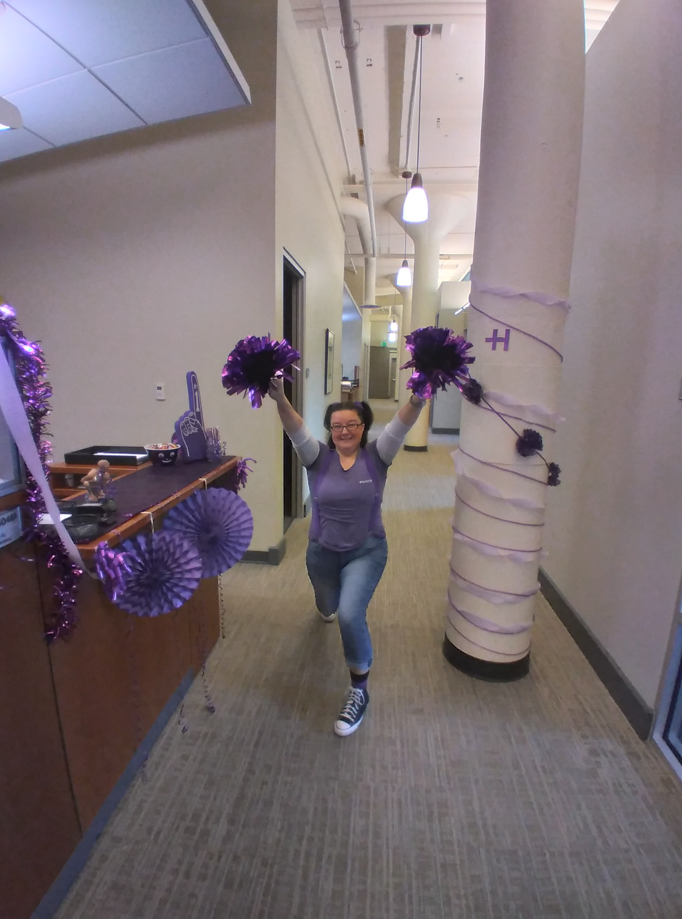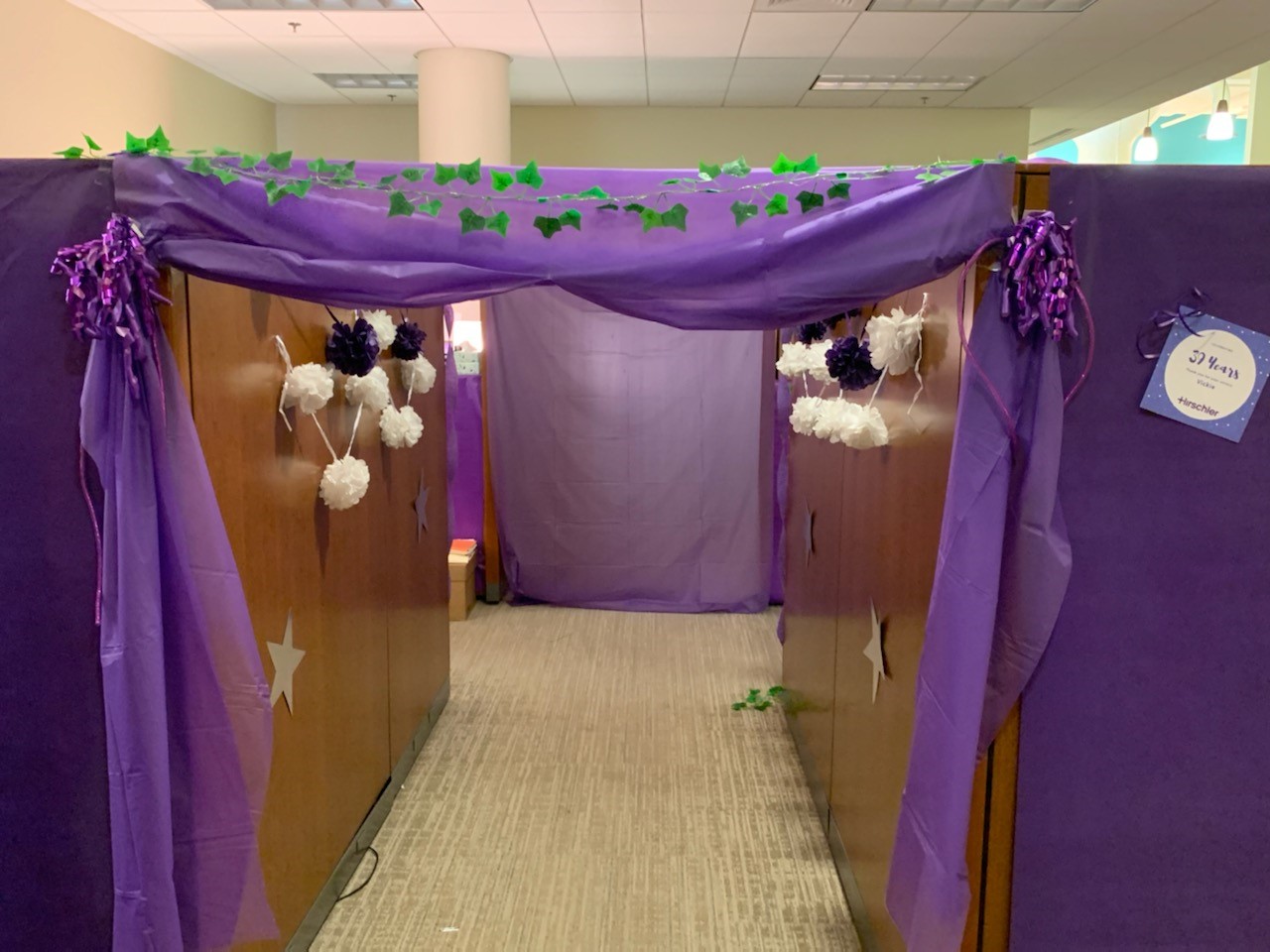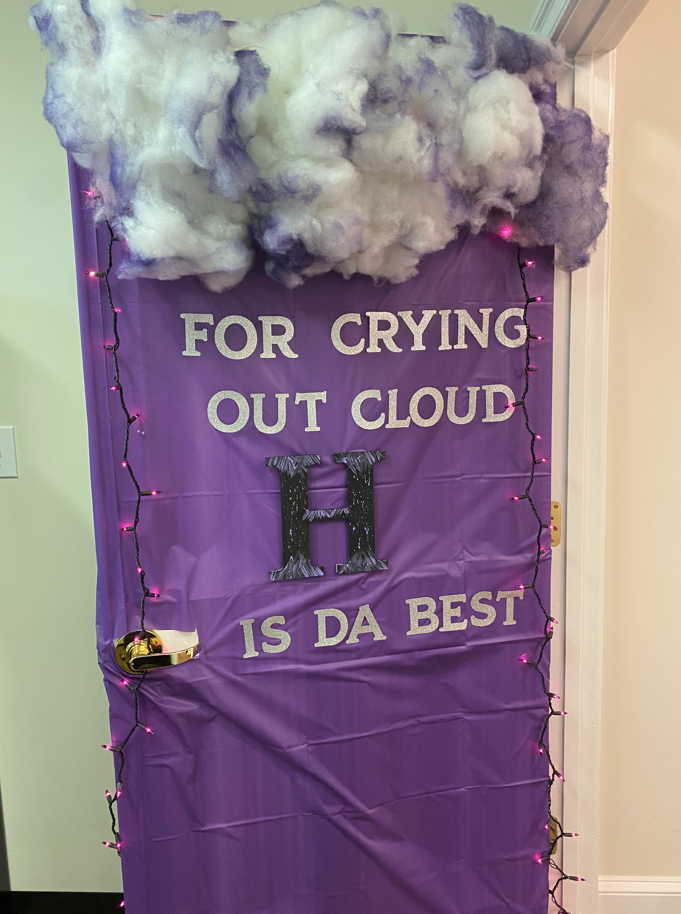 Anthem Corporate Run
On September 23, 2021, Hirschler employees gathered for the annual Anthem Corporate Run 5K in Innsbrook. Hirschler is a proud sponsor of the Anthem Corporate Run and the Post Race Office Party. Supporting this event reflects the value we place on balance and staying active in our community.
The Anthem Corporate Run is a much anticipated firm event – one that brings our employees together for fun, camaraderie and some healthy competition. It is a great opportunity for us to connect with members of the business community in a casual setting.
Hirschler friends and colleagues enjoyed pizza and drinks, celebrating a successful finish!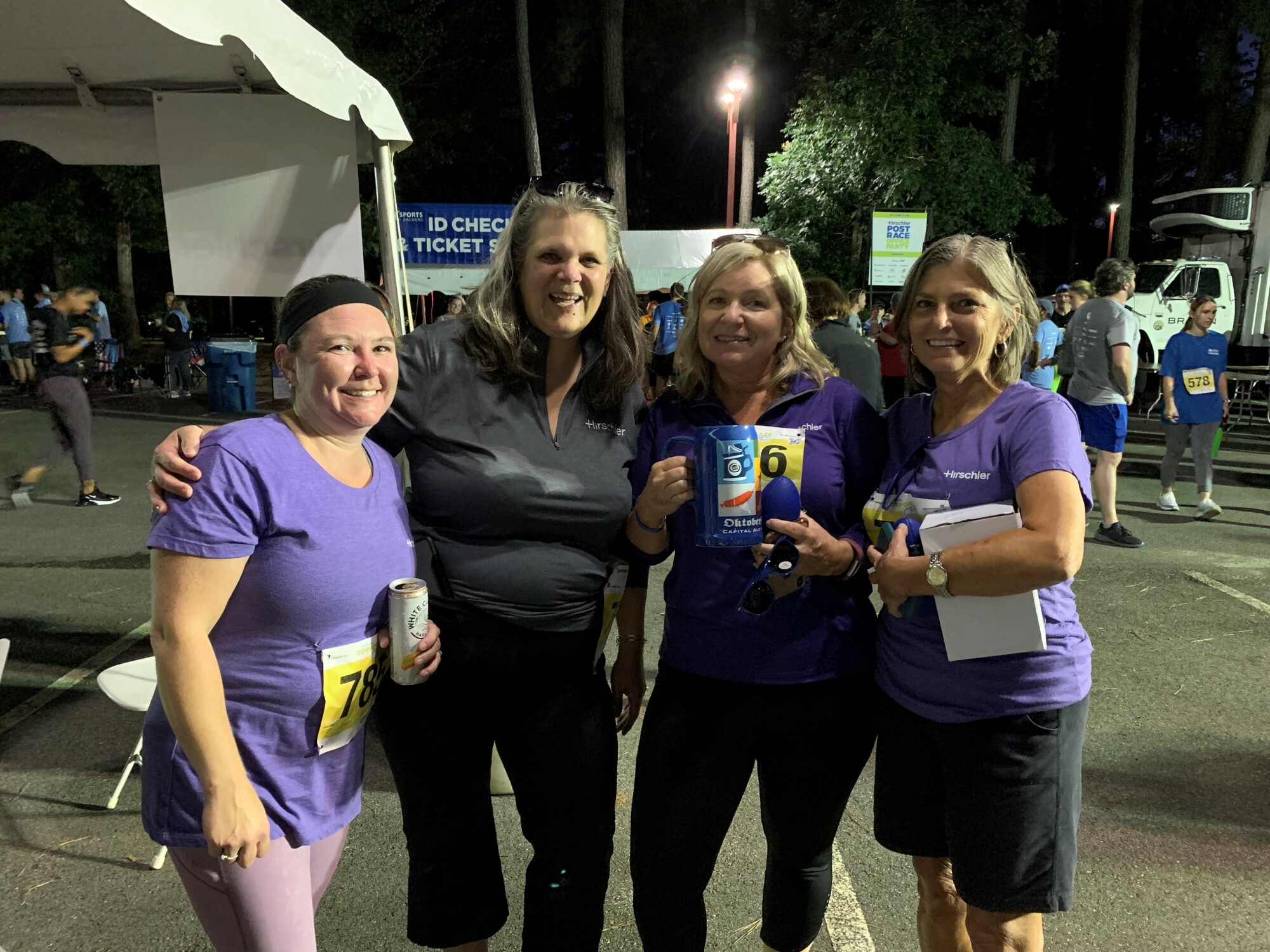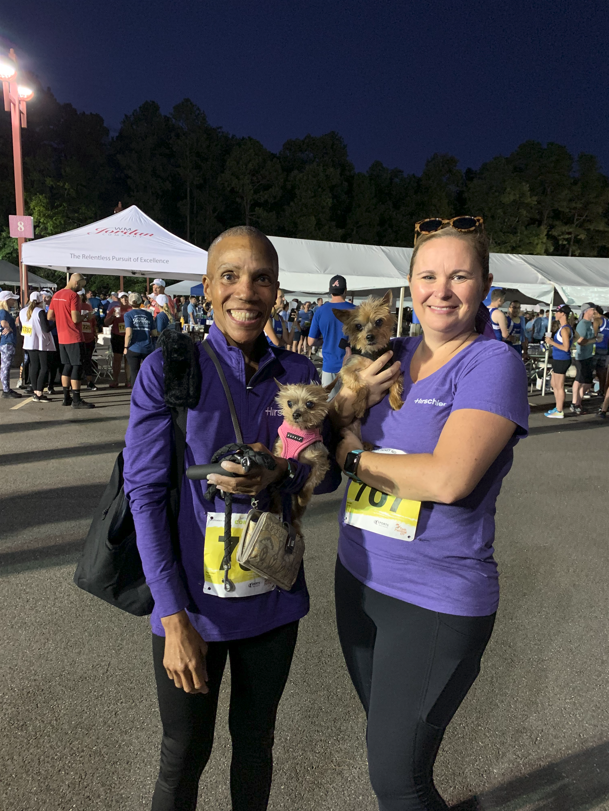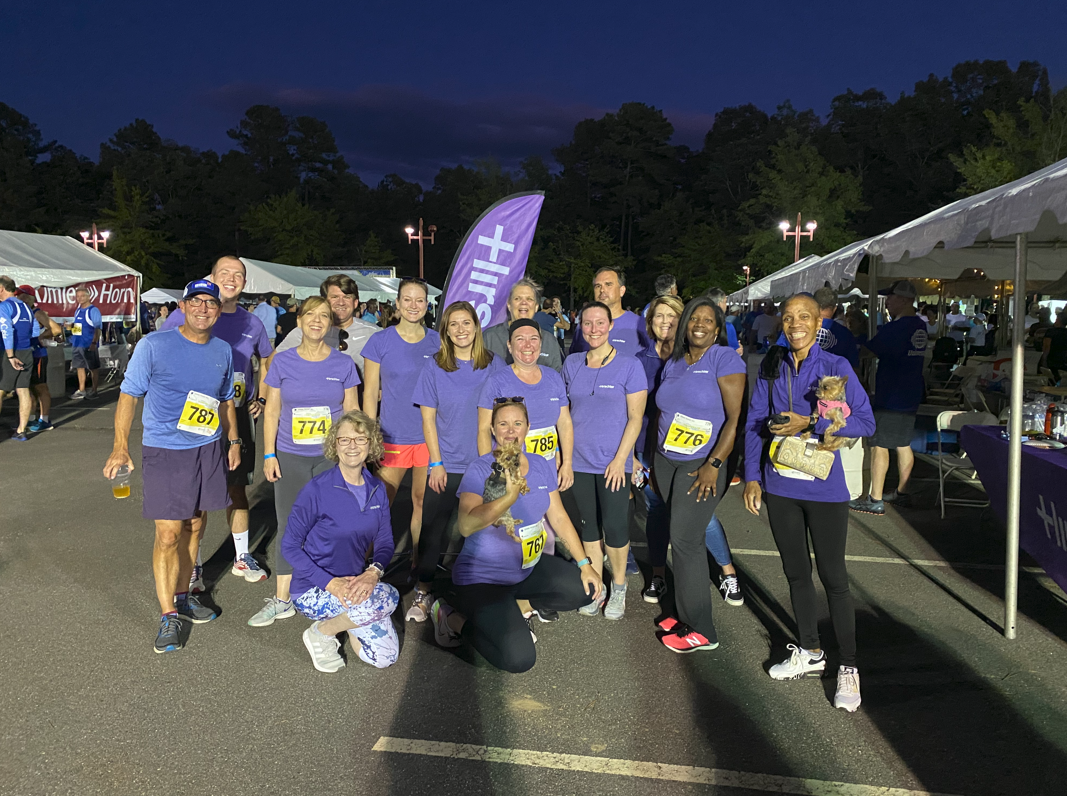 Women's Initiatives Network (WIN) Picnic
Reunited and It Feels So Good!
On May 24, 2021, Hirschler M&A attorney Andrea Mousouris hosted an internal Women's Initiatives Network (WIN) event at her home. It was the first "live" WIN event since 2019 and the group was excited to be back together after several months of social distancing. Picnic RVA staged the beautiful event and handled the catering, which included artisanal picnic fare such as charcuterie with delicious cheeses, crackers and fruit.
WIN at Hirschler was created to provide a forum for attorneys, professionals, business executives and community leaders to exchange ideas and to promote the development and success of women as leaders in the community. One third of Hirschler's lawyers are women. The firm's first female president, Courtney Paulk, leads the firm's eight-member Board of Directors. A woman partner also serves as the firm's hiring officer. Women chair two of the firm's core practice groups, and women either lead or participate on every administrative committee within the firm. Four out of eight professionals on the firm's administrative management team are women.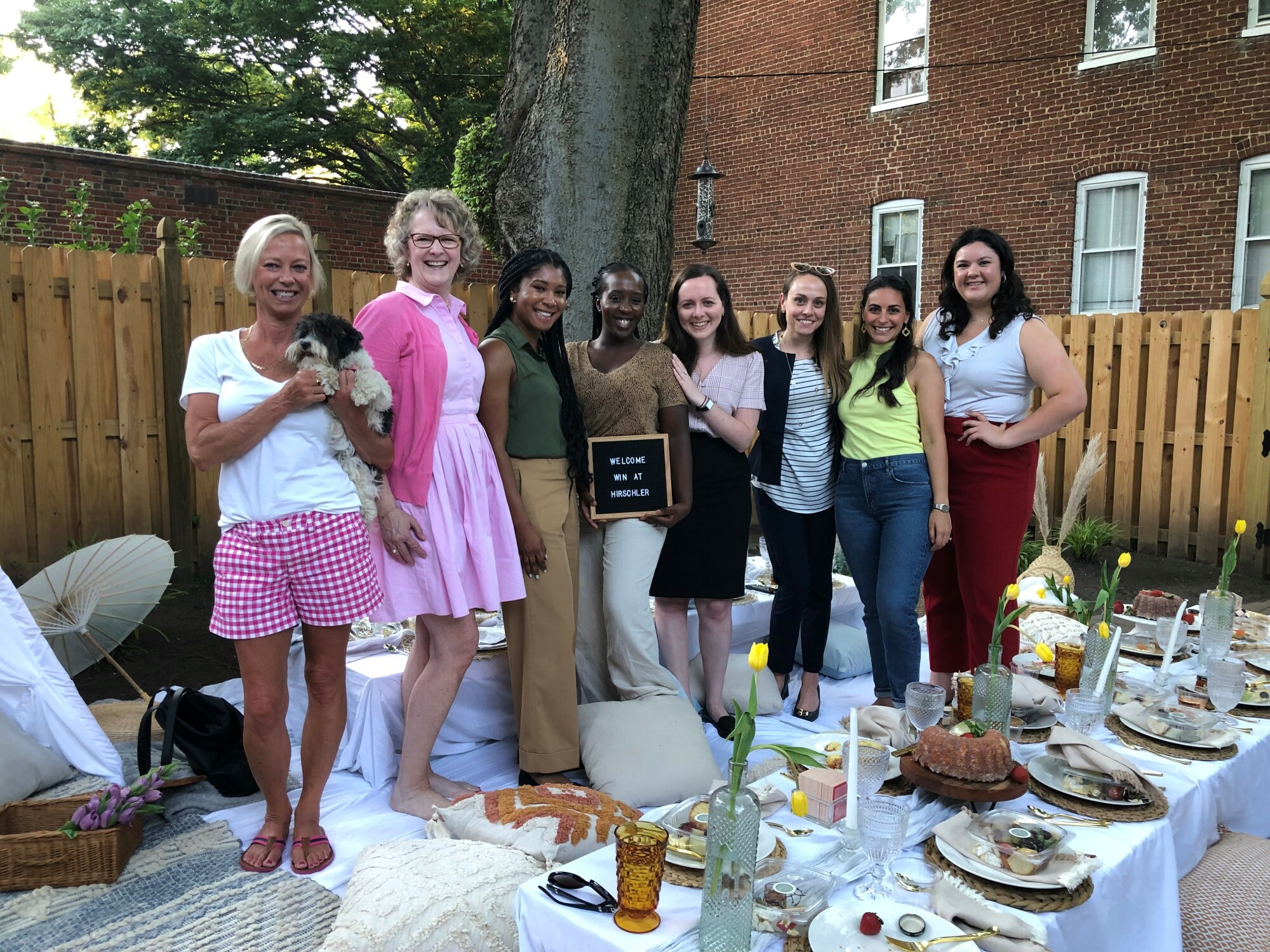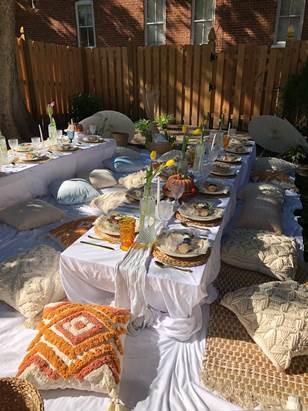 July 2021
Celebrating Faith Nelson
On July, 23, 2021, Hirschler celebrated the retirement of longtime employee Faith Nelson. Faith joined Hirschler in 2006 as a professional assistant. Over her 15-year career with the firm, she made many contributions, most recently, through her support of the Outside General Counsel Services Practice Group and Lateral Engagement Committee.
Faith's colleagues and family marked the bittersweet occasion with great fanfare in the Edgeworth courtyard. Though Faith was usually the one behind the camera—using her pro photography skills to memorialize firm events—this time she was in front, soaking up the admiration of her Hirschler family. A fitting conclusion to a long and successful career.
Faith, your warm presence in the Richmond office will be missed, but we can't wait to hear about her next adventure! Congratulations!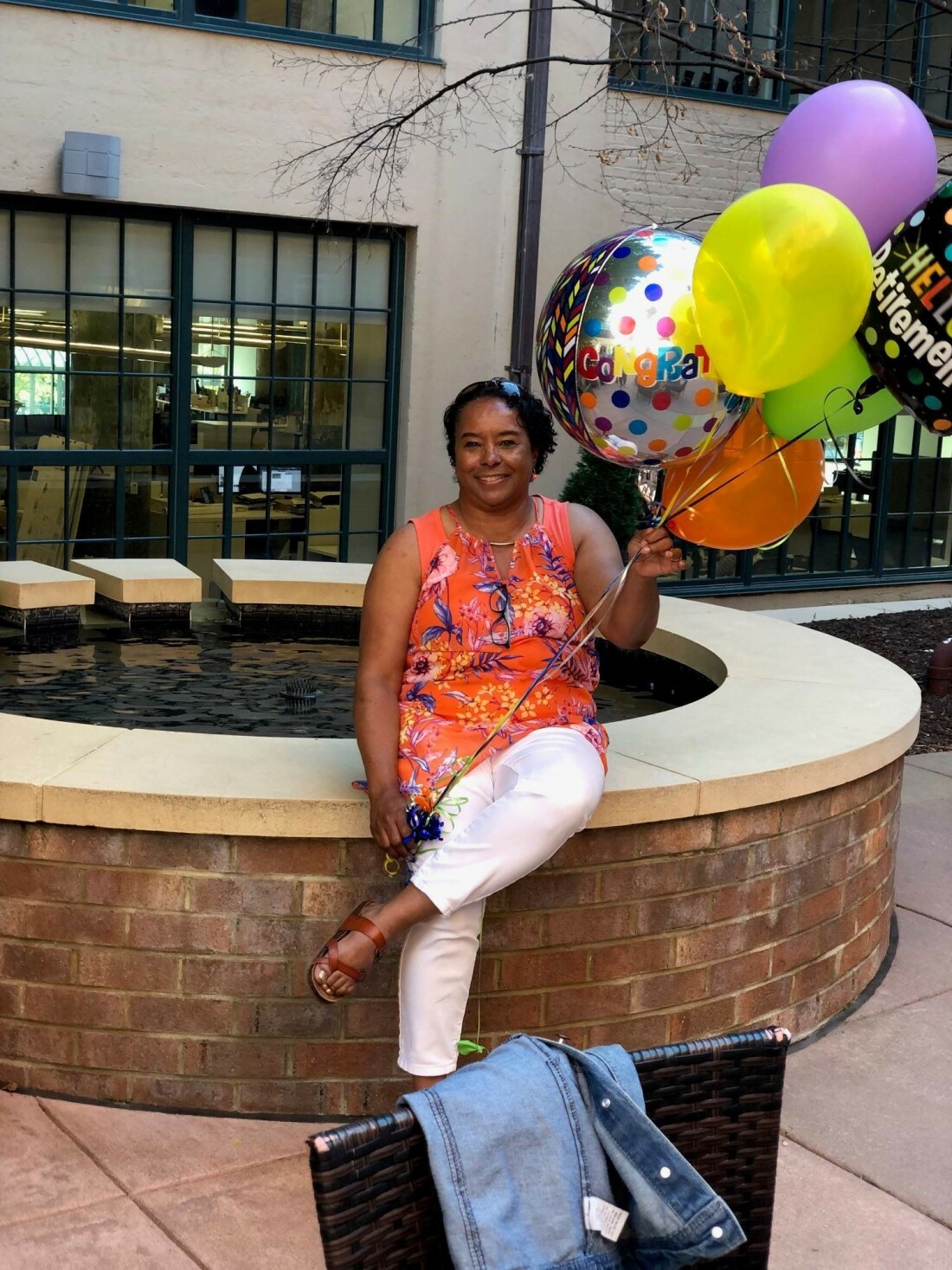 Summer 2021
Hirschler Summer Program
Hirschler's dynamic summer program draws students from top-notch law schools and job fairs. During their eight weeks at Hirschler, law school students are given hands-on training and the opportunity to experience daily life as Hirschler attorneys. Through the program, summer clerks get to know firm lawyers and staff both on- and off-the clock. In addition to tackling "real world" assignments—writing memos, drafting contracts and attending court hearings—our students participate in a wide range of social activities in and around Metro Richmond.
This year, Hirschler is pleased to be joined by four talented clerks, including, Kimberly Castleman, 2L, University of Richmond; Elizabeth Hardy, 2L, Howard University; Caroline Jaques, 2L, University of Richmond; and Toviya Nabugero, 2L, University of Richmond.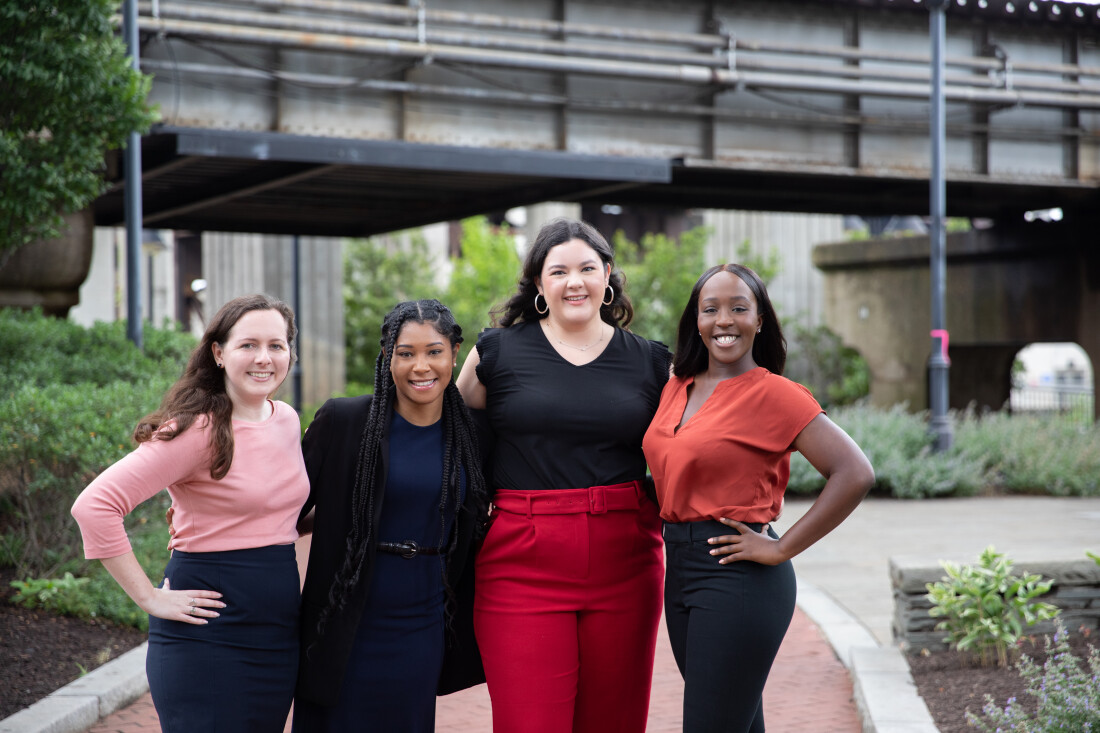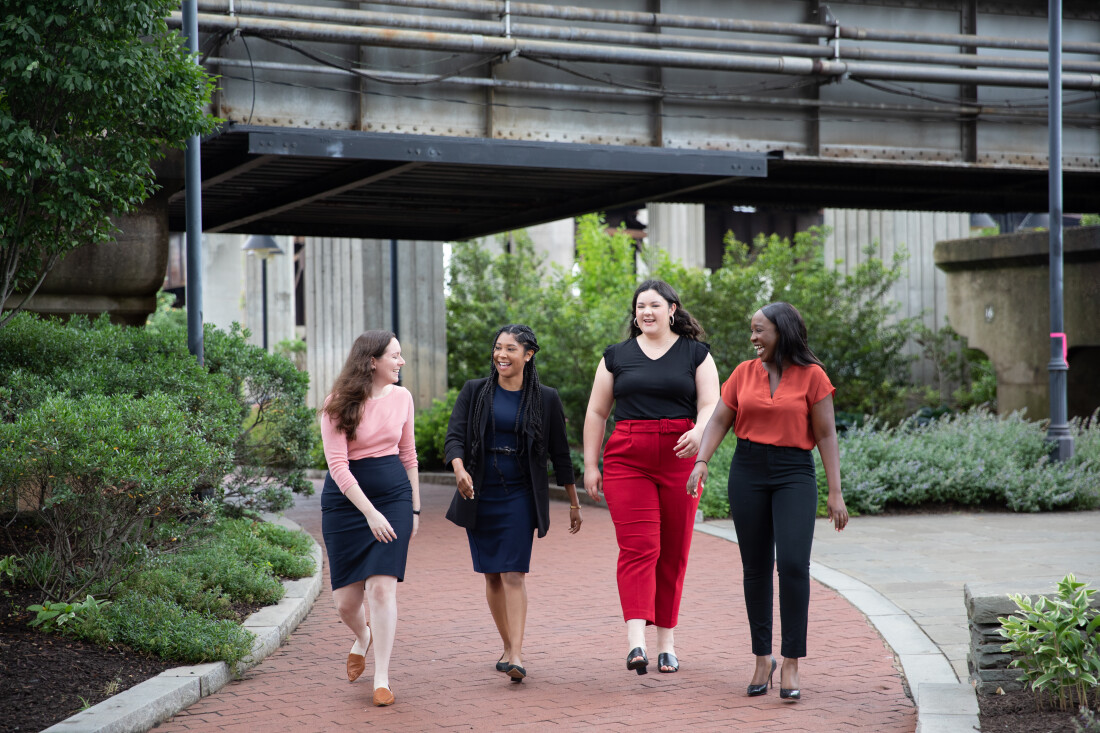 Staff Appreciation Week
Each April, Hirschler pauses to recognize the hard work and dedication of its extraordinary staff with a full week of festivities. Staff Appreciation Week (SAW) has become an important tradition at Hirschler – even more so this year, as our staff tackled the twists and turns of a global pandemic. Exceptional staff support is a hallmark of the Hirschler experience.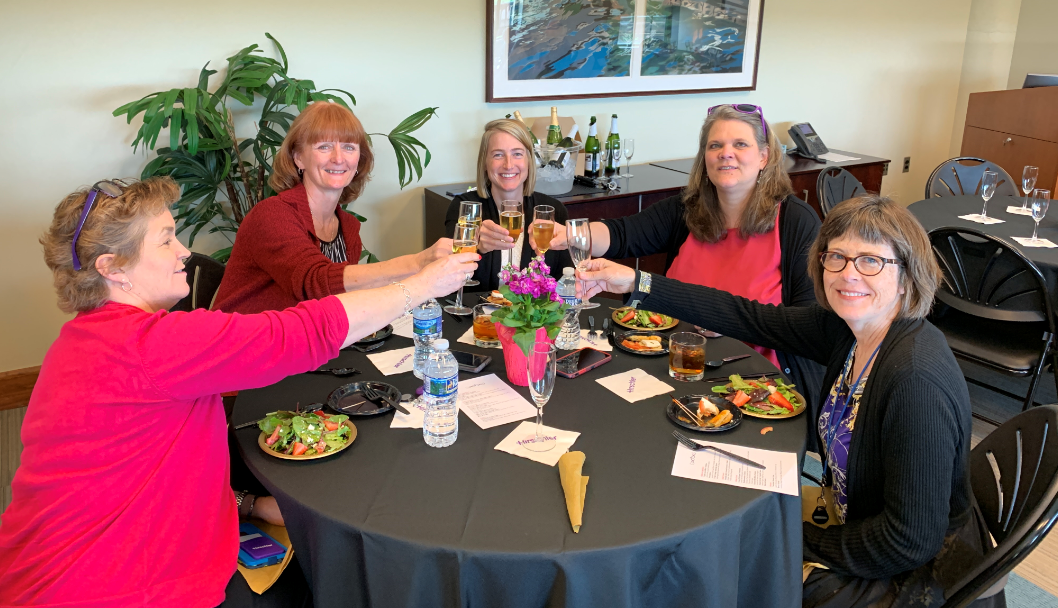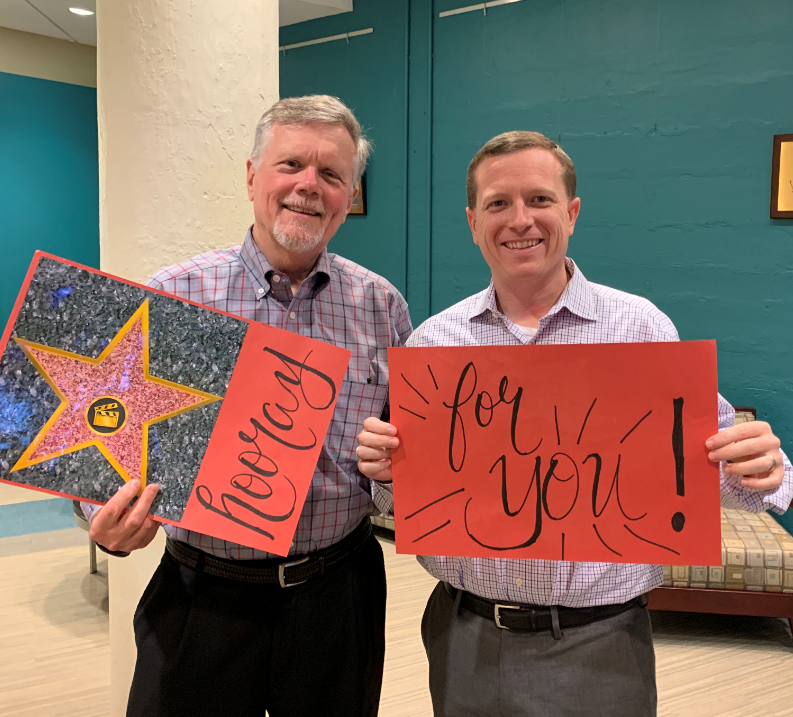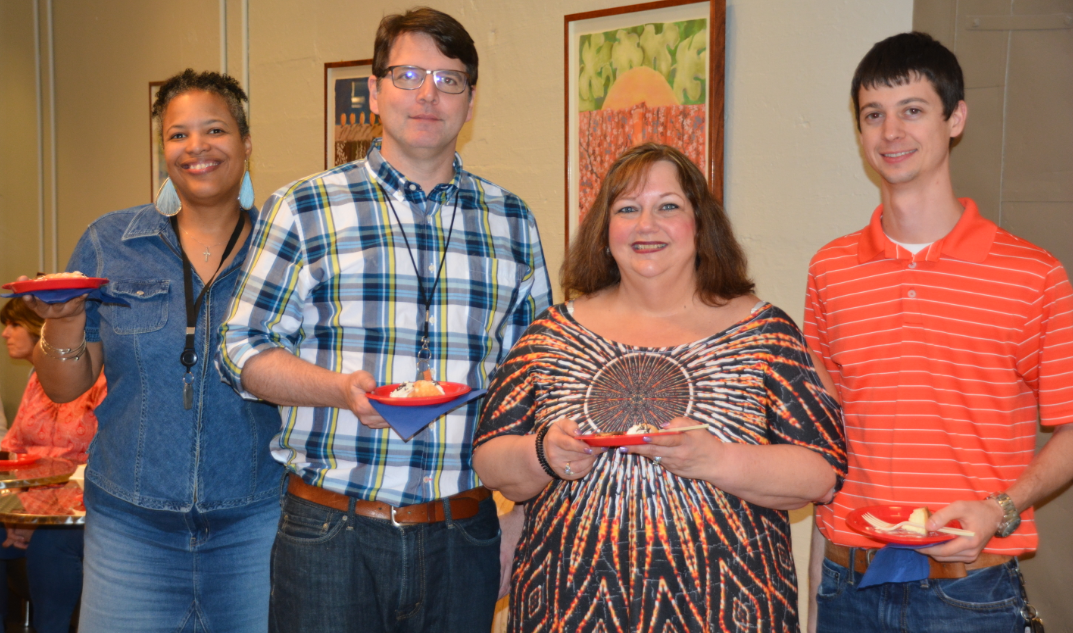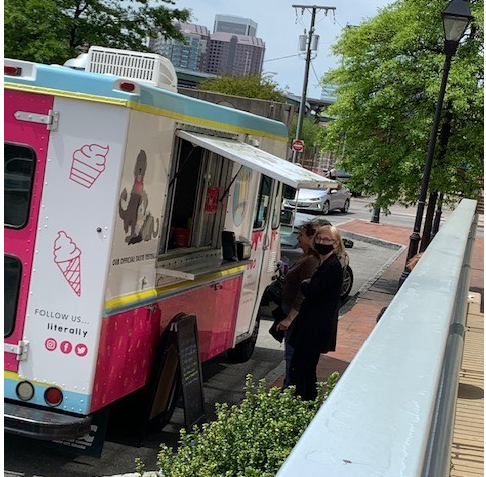 February 2021
Marie Ehrlich Celebrates 40 Years at Hirschler
As she likes to remember it, Hirschler professional assistant Marie Ehrlich was 10 years old when she began her career at Hirschler; in February 2021, she celebrated an astounding 40 years of service to the firm. On her first day - February 16, 1981 - an eager Marie walked into Hirschler's offices at the Massey Building and began her long and storied career. Her role may have changed a bit over the years but her enthusiasm and dedication for her position remain the same.
Hirschler is fortunate to have several longtime employees: lawyers and staff who have chosen to make the firm their professional home for decades. We are grateful to be a firm that inspires their loyalty!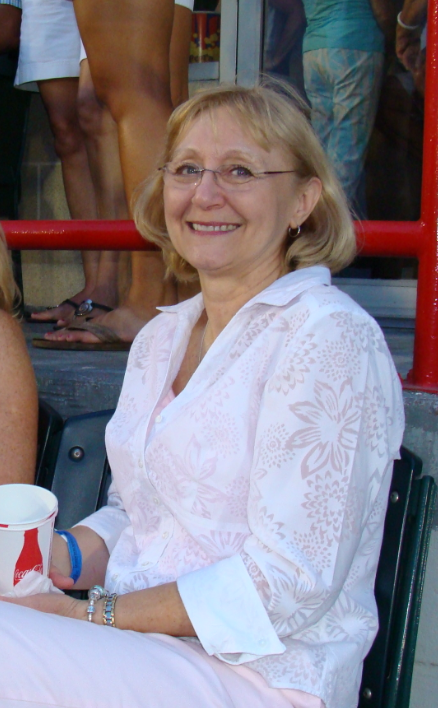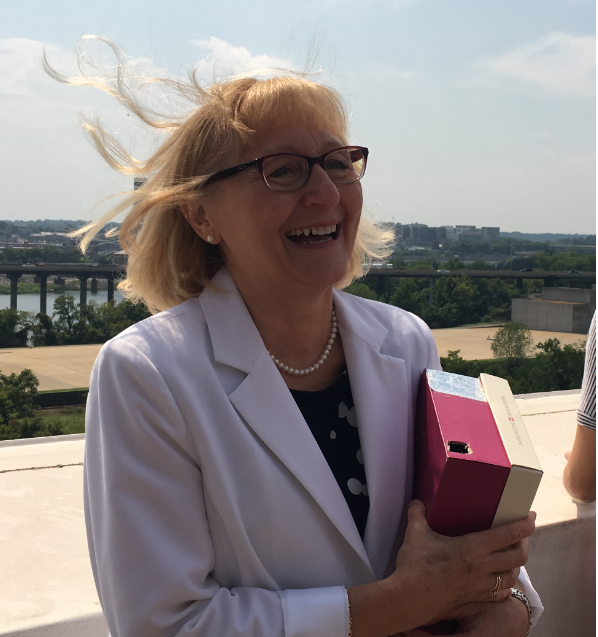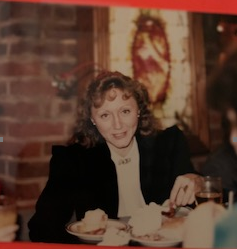 September 2020
Hirschler Named Among Top Places To Work in Richmond by Richmond Times-Dispatch
Thanks to the generous feedback of its employees, Hirschler was recognized as a "2020 Top Workplace" in the Richmond region by the Richmond Times-Dispatch. The firm was recognized in the publication's small business category.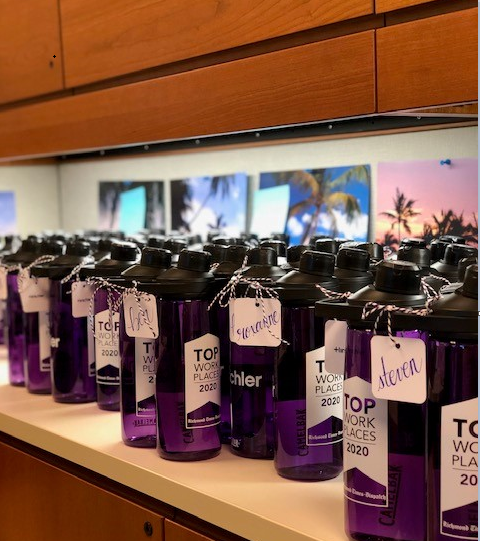 October 2018
Hirschler Celebrates Its First Annual Spirit Day
On October 24, 2018, Hirschler hosted an internal celebration to mark the rollout of its new brand identity and redesigned website. Now celebrated annually each October, Hirschler Spirit Day is filled with activities that allow lawyers and staff to show their firm pride.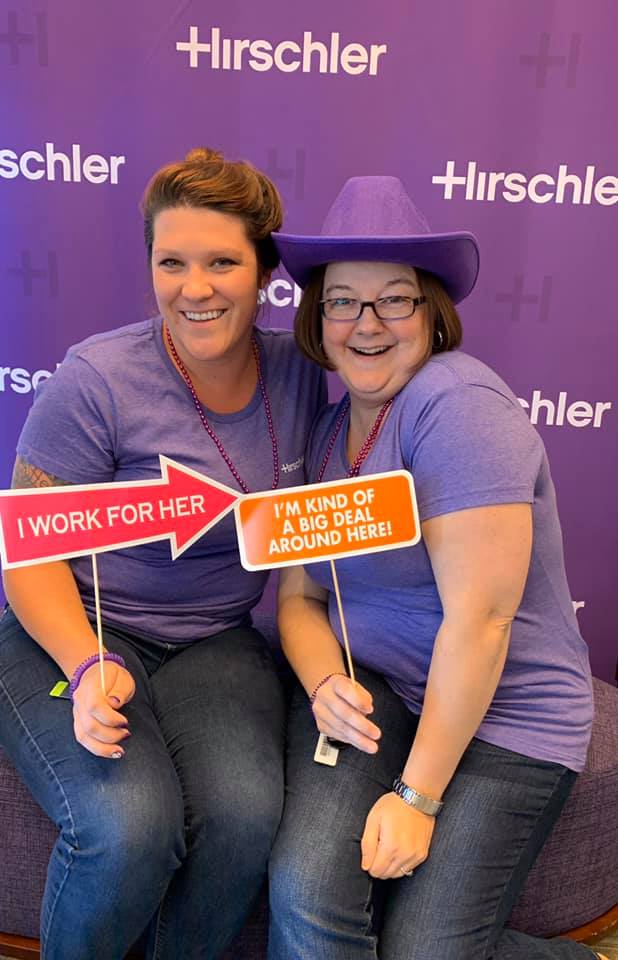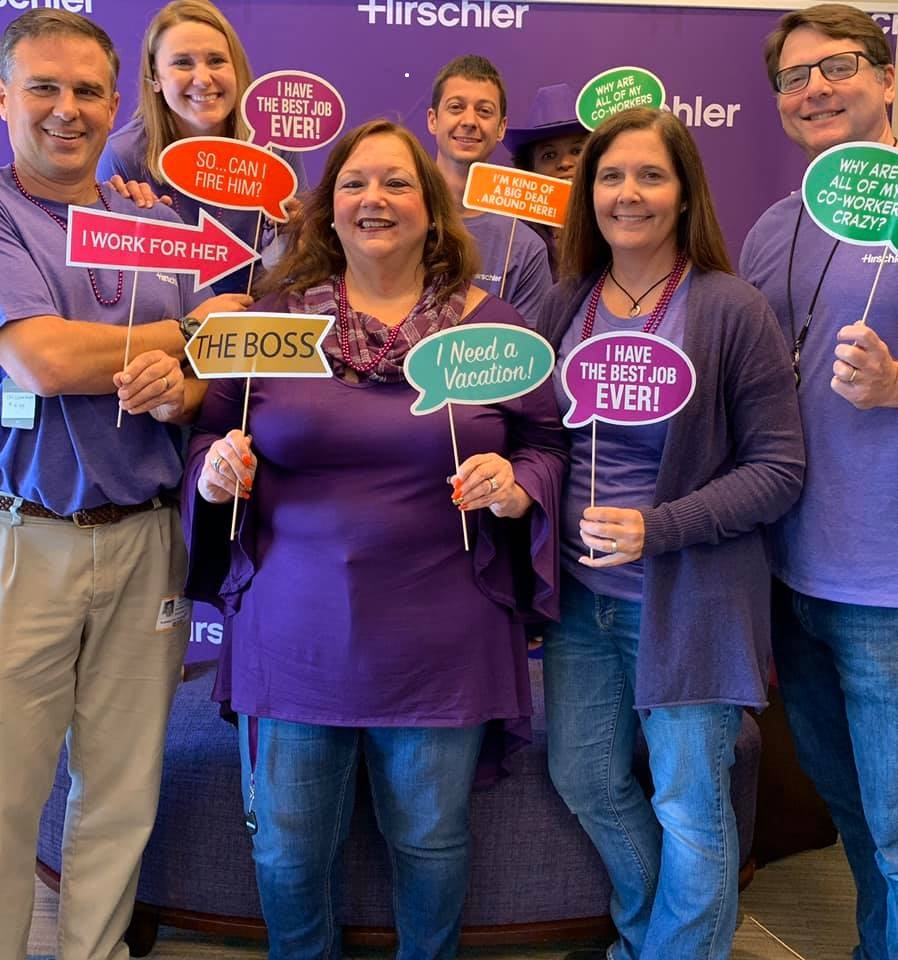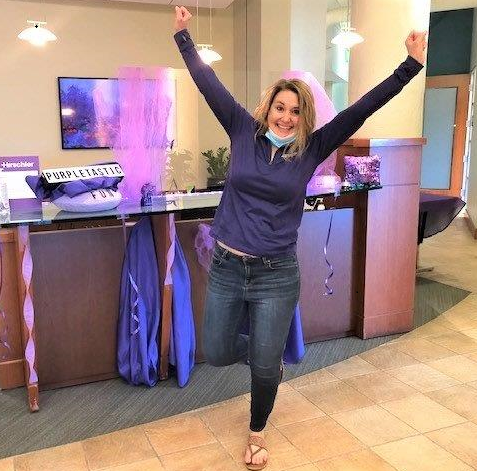 Hirschler's Annual Summer Event
Family Fun at Hirschler
The firm that plays together, stays together! Each June, Hirschler hosts employees and their families for a summer kick-off event. Whether gathering for a baseball game, games of shuffleboard or yard games, the event allows employees and their families to get to know each other in a fun, casual setting. After taking a year off during the pandemic, we're hoping for the "all clear" on a summer 2021 event!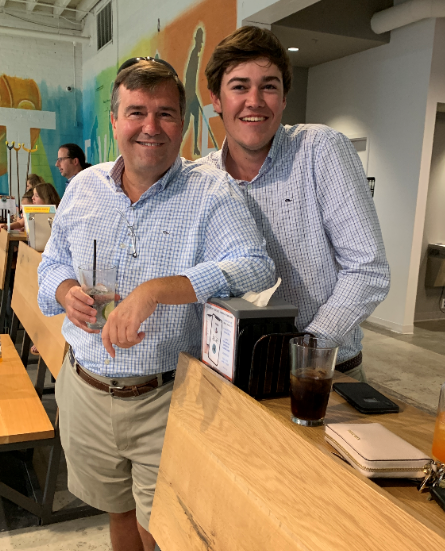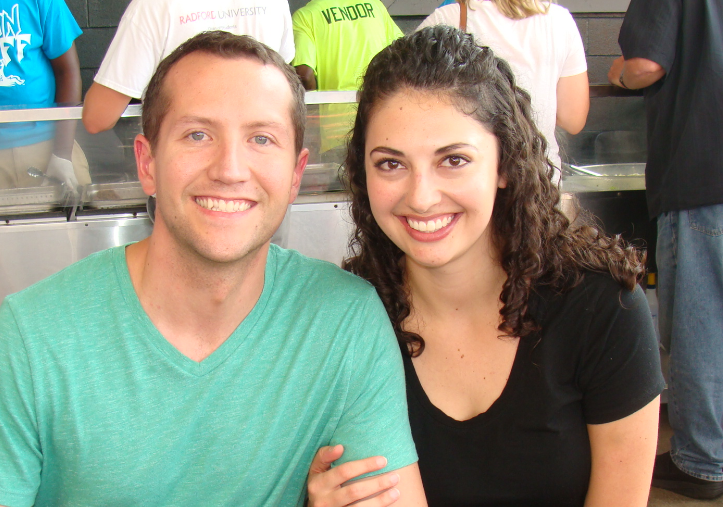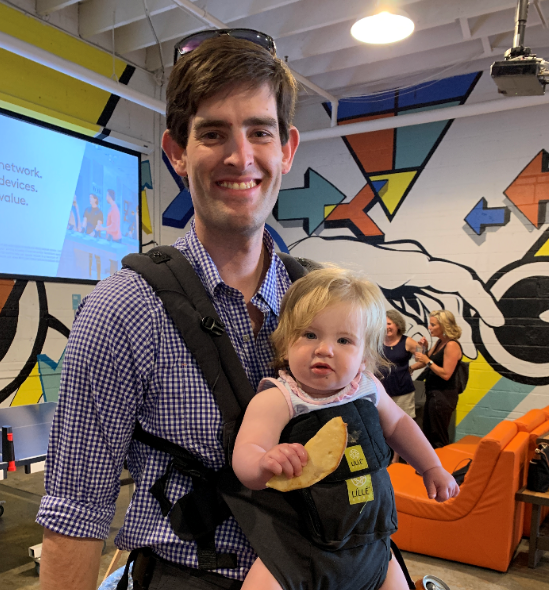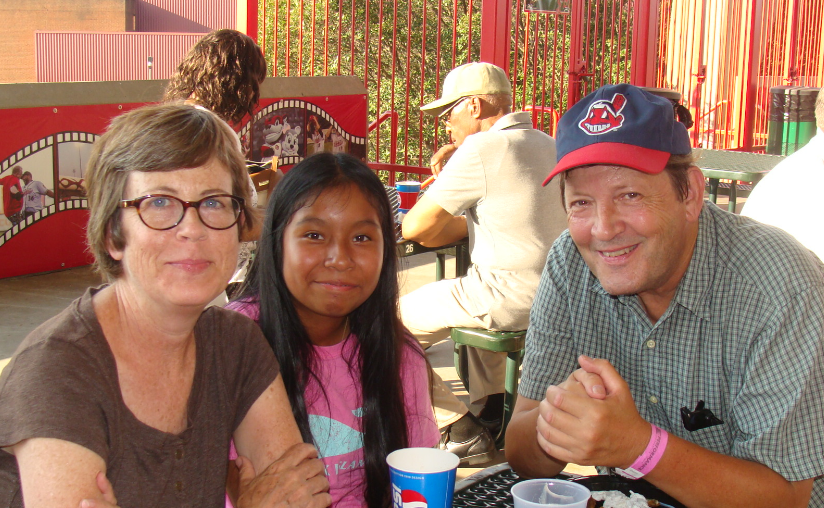 Your Memories
"What an accomplishment! I am so proud to have been a long time employee before my retirement after 38 years of service. Best Place to have worked and Best People to have ever worked with. I miss it every day. Congratulations!" - Sue Proffitt, retired Hirschler professional assistant