Print PDF
Hirschler Celebrates Black History Month
During February, Hirschler joins with The Library of Congress, the National Archives and Records Administration, the National Endowment for the Humanities, the National Gallery of Art, the National Park Service, the Smithsonian Institution, the United States Holocaust Memorial Museum, and with all Americans, in celebrating Black History Month (also known as African American History Month), and in paying tribute to the many generations of African Americans who struggled against adversity to achieve full citizenship in American society. Our American society and civilization is strengthened by our diverse population.
Each week during February, we will celebrate the life of a notable figure from African American history. We chose persons who made their mark in government and law – two women, two men, and two Virginians.
Honoring Shirley Chisholm
In our first week, we take a look at the life and times of Shirley Chisholm, the first African American woman to serve in the United States Congress.
Shirley Anita St. Hill Chisholm was born in Brooklyn, New York in 1924 to immigrant parents of Guyanese and Bajan descent. Her father worked in a factory that made burlap bags and her mother worked as a seamstress and domestic worker. Ms. Chisholm graduated from Brooklyn College in 1946 and later earned a master's degree from Columbia University while teaching nursery school and directing day-care centers in New York City. She entered the world of politics in 1964, earning a seat in the New York State Assembly, where she served until 1968.
In 1968, Shirley Chisholm made history when she became the first African American woman ever to be elected to the United States Congress, taking her seat in the U.S. House of Representatives in 1969, where she became a fierce advocate for the rights of the individual citizens of her inner-city Brooklyn District. Ms. Chisholm again made history in 1972, when she became the first woman, and first African American, to be widely considered a serious candidate for a major-party nomination for President of the United States. Although ultimately she did not win the Democratic party's nomination for president, Ms. Chisholm inspired a generation of young Americans -- Black, White, women and men -- and continued to work to reform U.S. political parties to better meet the needs of everyday Americans.
Ms. Chisholm continued to serve in the U.S. House until 1983, and she passed away in 2005. This week, we honor the life, achievements, and memory of Shirley Anita St. Hill Chisholm, a great pioneer and champion of African American and women's rights. For further reading on the life and accomplishments of Shirley Chisholm, click here.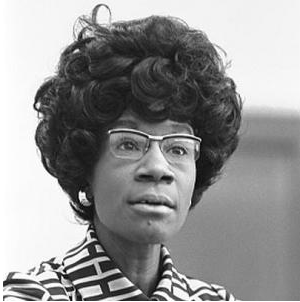 Honoring Oliver Hill
In this second week of Black History Month, we remember legal and civil rights icon, and Richmond's own, Oliver Hill.
Oliver White Hill was born in Richmond, Virginia in 1907. The family later moved to Roanoke and, in 1923 when Oliver was sixteen, to Washington D.C. so that Oliver could attend Dunbar High School, an academically elite African American college preparatory school. Mr. Hill subsequently matriculated at Howard University, working his way through college during the depths of the Great Depression, graduating from Howard in 1931, and from Howard University Law School in 1933, where he was second in his class, ranking behind only his good friend and future U.S. Supreme Court Justice Thurgood Marshall. The beginning of Mr. Hill's legal career was interrupted by World War II, during which time Mr. Hill served our country and achieved the rank of Staff Sergeant in the United States Army.
Returning to Richmond after the war, Mr. Hill resumed his law practice, partnering with fellow civil rights lawyer Spottswood W. Robinson, III. In April, 1951, Hill and Robinson took notice of a student strike at all-Black R.R. Moton High School in Farmville, Virginia, led by a young Black student named Barbara Johns, who had organized a student protest against the leaking, poorly heated buildings that served as the "separate but equal" African American high school in Farmville. Hill and Robinson later led the charge against Prince Edward County's segregated schools in the case that defined civil rights and equal education for African American students in Virginia -- Davis v. School Board of Prince Edward County. Davis was later consolidated with four other cases in the landmark U.S. Supreme Court case of Brown v. Board of Education, in which Hill, Robinson, and Thurgood Marshall led a legal team that overturned the shameful doctrine of "separate but equal."
Mr. Hill continued his entire life to tirelessly fight for justice, equal opportunity and civil rights, serving on Richmond's City Council, the first African American to do so since Reconstruction. Mr. Hill also helped win landmark legal decisions involving equality in pay for Black teachers, equal access to school buses, voting rights, equitable jury selection and employment protection, served as Federal Housing Commissioner in the Department of Housing and Urban Development and, in 1993, was awarded the Presidential Medal of Freedom, the nation's highest civilian honor, by President Clinton. Today, the Richmond City Juvenile and Domestic Relations Courthouse bears Mr. Hill's name. Mr. Hill passed away at the age of 100 in 2007, at which time his body rested in state in the Virginia Capitol.
Oliver White Hill was a legal giant and a civil rights icon, and this week we remember his life and honor his memory. Read more about the life and monumental accomplishments of Oliver Hill at the web site of The Oliver White Hill Foundation, by clicking here.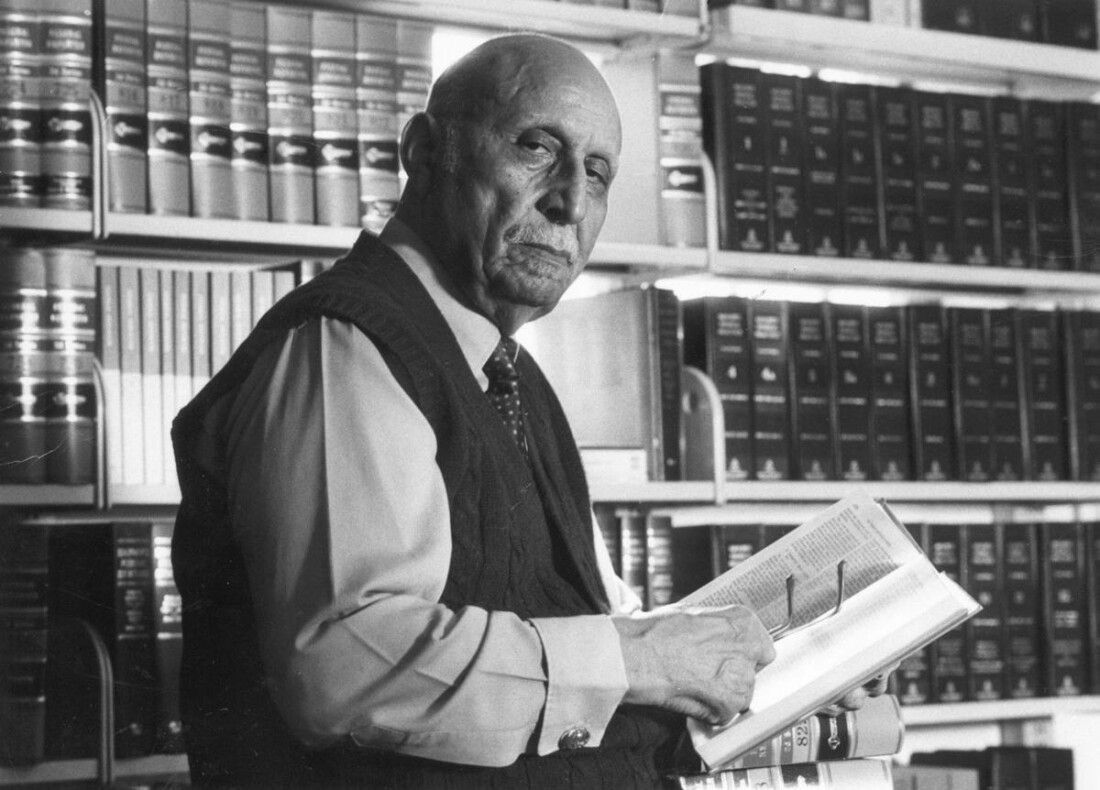 Honoring Thurgood Marshall
In the third week of Black History Month, we remember the life and accomplishments of Thurgood Marshall, the first African American justice of the United States Supreme Court.
Thurgood Marshall was born in Baltimore, Maryland in 1908, descended from enslaved peoples on both sides of his family. His father, William Canfield Marshall, worked as a railroad porter. His mother, Norma Arica Williams, was a school teacher. Mr. Marshall's parents instilled in him a love of education and the rule of law. He graduated from Lincoln University and the Howard University Law School, where he finished first in his class.
Mr. Marshall began practicing law in 1933. In 1938, he became chief counsel for the National Association for the Advancement of Colored People (NAACP), a position in which he served until 1950. In 1953, Mr. Marshall joined a legal team that included Virginia's own Oliver Hill and Spottswood Robinson in arguing, and winning, the landmark case Brown v. Board of Education, in which the Supreme Court of the United States held that racial segregation in public schools is unconstitutional.
In 1961, President Kennedy appointed Mr. Marshall to the United States Court of Appeals for the Second Circuit, where he was confirmed only after overcoming opposition from a group of southern senators. And in 1967, President Johnson named Mr. Marshall to be associate justice of the U.S. Supreme Court, where Mr. Marshall was confirmed by a vote of 69-11, with a remarkable twenty (20) senators declining to vote either yes or no, instead choosing to vote "present" or "in abstentia."
As an associate justice, Mr. Marshall took leading progressive positions on a broad array of issues, including affirmative action, school desegregation, the rights of welfare recipients, free speech, and capital punishment. Mr. Marshall retired from the Court in 1991, and passed away in 1993. And on January 20, 2021, Senator Kamala Harris put her left hand on a bible owned by one of her heroes, Associate Justice of the United States Supreme Court Thurgood Marshall, and was sworn in as Vice President of the United States -- the first woman, and the first person of color, to hold that office."
Thurgood Marshall was a pioneer, a legal giant, and a change-making civil rights leader for all Americans. We remember his remarkable life, and honor his memory.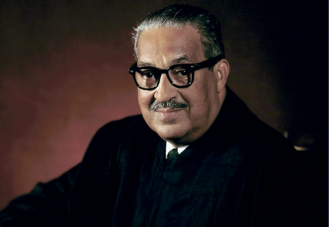 Honoring Barbara Johns
As Black History Month 2021 comes to a close, we honor a Virginian who as a sixteen-year-old high school student started a movement that changed public education forever in Virginia and the United States, and that led to perhaps the most famous and most important U.S. Supreme Court case in history – Brown v. Board of Education. This week, we remember Barbara Johns of Prince Edward County, Virginia.
Barbara Rose Johns was born in New York City in 1935. The family had Virginia roots and during World War II Barbara and her family moved to Prince Edward County where Barbara's father managed the family farm while Barbara's mother held down a job with the U.S. Navy in Washington, D.C. Barbara worked on the farm and went to school. Barbara's uncle, the Montgomery, Alabama minister and civil rights leader Vernon Johns, instilled in Barbara and her sister and brothers a passion for civil rights, education, and Black History.
Prior to Brown, Virginia's public schools were racially segregated by state law. It was, quite literally, unlawful for Black children and White children to sit together in the same Virginia public school classroom. Racial segregation had been declared constitutional under the U.S. Constitution in 1896, in the wrongly-decided Plessy v. Ferguson. And, adding insult on top of horribly bad law, Plessy's "separate but equal" doctrine was given little more than lip service in many counties throughout Virginia and the rest of the United States. The Prince Edward County African-American High School where Barbara Johns was enrolled, the Robert Russa Moton H.S. in Farmville, featured inadequate heating, leaking roofs, no science laboratories, and no gymnasium.
In April, 1951, sixteen-year-old Barbara Johns was working on a plan to change conditions at her school, and on April 23 Barbara delivered an inspirational speech to all 450 Moton High School students, and then led her classmates and the other students in a strike against the unacceptable "separate but equal" conditions and a march to the office of Prince Edward County School Superintendent T.J. McIlwaine, who told the students that they were "out of place." But Barbara, who later said that "it seemed like reaching for the moon," and the other African-American students persisted and, two days later, Barbara Rose Johns came to the attention of Richmond lawyers Spottswood W. Robinson and Oliver Hill, who subsequently agreed to take on Barbara's cause in the case Davis v. School Board of Prince Edward County. Unsurprisingly, the Virginia state trial court in Farmville upheld the legality of the separate but completely unequal conditions but Barbara Johns, Spottswood Robinson, and Oliver Hill persisted still, joining forces with NAACP lawyer Thurgood Marshall to appeal Davis and a group of other "separate but unequal" cases to the United States Supreme Court, where Plessy v. Ferguson was at long last rightfully reversed in the landmark Brown case.
Following the April, 1951 march and strike, Barbara and her family were harassed mercilessly. Fearing for Barbara's safety, her parents sent her to live with her Uncle Vernon in Montgomery. Barbara finished high school in Alabama and then attended and graduated from Drexel University in Philadelphia. Barbara's love of learning and public education led her to a career as a school librarian in the Philadelphia public school system. She also married William Powell and together they reared five children. Barbara continued to live a quiet and productive life in Philadelphia until her untimely death from cancer in 1991 at the age of 56.
Today, Richmond's federal courthouse on Broad Street bears the name of Spottswood W. Robinson. The Juvenile and Domestic Relations Courts Building in Richmond is named for Oliver Hill. In Washington, D.C., a statue of 16-year-old African-American student activist Barbara Johns will replace Virginia's statue of Robert E. Lee in the National Statuary Hall in the United States Capitol. In Richmond, the Office of the Virginia Attorney General is housed in the newly-renovated and newly-renamed Barbara Johns Building. And the Virginia Civil Rights Memorial on Capitol Square in Richmond honors Barbara Johns, whose teenage likeness along with the likenesses of Barbara's fellow Moton high School students is featured below the words, "it seemed like reaching for the moon." This week, we gratefully honor the memory and life of Barbara Rose Johns Powell, who reached for the moon, and gained the stars.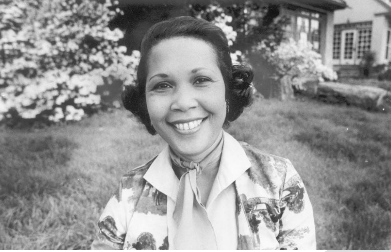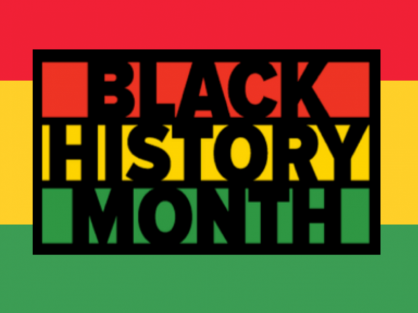 Hirschler believes that clients are best served by a diverse group of lawyers. Learn more about our Diversity and Inclusion practices here.