Overview
"One of Hirschler's first rainmakers, Jay Weinberg, once told me that a successful lawyer makes her friends her clients, and her clients her friends. The most rewarding aspect of my practice is the partnership I form with clients over time. Serving 'in the trenches' together, we form a bond that moves from 'lawyer-client' to lasting friendship."
Carrie O'Malley advises clients on innovative investment structures related to commercial real estate. In addition to her established commercial real estate and finance practice, Carrie has a long history representing real estate investors and lending institutions in the acquisition, financing, servicing and sale of commercial loan portfolios. This work has involved loan pools of conventional mortgages (both performing and non-performing), as well as commercial economic development loans. Carrie also maintains a niche focus in the rapidly-evolving impact investment arena of Property Assessed Clean Energy (PACE) financing.
PACE Financing
Carrie leads Hirschler's multidisciplinary PACE team, which to date, can claim more national PACE experience than any other law firm in the country. Carrie advises PACE capital providers on all transactional elements of a PACE deal—from financing structures, to real estate due diligence, to document negotiation and compliance. With extensive PACE knowledge in a variety of jurisdictions, she also works with program administrators and municipalities throughout the lifecycle of a PACE project to improve national PACE programs and standardize PACE documentation. Notably, Carrie was involved in several PACE funding "firsts:" the first PACE-funded office construction project in the United States (Milwaukee, Wisconsin), the first new construction PACE transaction in the District of Columbia, and the first rated C-PACE securitization in the country.
A longtime resident of the City of Fredericksburg, Carrie has a strong connection to her community. In September 2015, she trained for and performed with other business leaders at "Dancing with the Fredericksburg Stars," a charity event where she was recognized with the "Most Flair" award. Carrie is actively involved in local and regional causes, lending time and support to Rappahannock Area United Way, CancerLINC, and Woodberry Forest School.
Consistent with her "can do" attitude, Carrie completed a rigorous, four-year JD-MBA joint degree program at the University of Richmond in only three years of study. At Hirschler she serves as Co-Chair of the Commercial Real Estate Finance and Investment Practice Group, an active participant (and former Chair) of the Women's Initiatives Network (WIN), and the former Chair of the Commercial Real Estate and Finance Associate Development Program.
Recognition
Selected to Inaugural Class of Virginia's "Influential Women in the Law," Virginia Lawyers Weekly, 2019
Named to "Legal Elite," (Real Estate/Land Use), Virginia Business, 2006-2011, 2013-2014, 2016, 2018
Named to "Legal Elite," (Legal Services/Pro Bono), Virginia Business, 2017
Selected as "Influential Woman of Virginia," Virginia Lawyers Weekly, 2010
Named a "Virginia Rising Star," Real Estate, Super Lawyers, Law & Politics, 2007 and 2009
Recipient, Women of Distinction Award (Law), Girl Scout Commonwealth Council of Virginia, 2009
Experience
Experience
Represented EagleBank in $25 million PACE financing for the D.C. United Soccer Stadium, the third largest PACE deal on record in the United States. Supported all parties in the complex capital structure with extensive PACE knowledge, leading to the successful closing of D.C.'s largest and first-ever new construction PACE deal.
Represented real estate investor in the first PACE-funded office construction project in the United States (Milwaukee, Wisconsin).
Advised PACE capital providers on transactions in 12 of the 19 states with active PACE programs.
Organized and closed $400 million multi-state financing, consisting of over 30 multi-family residential properties throughout the United States for national REIT client.
Represented financial institutions and investors in the purchase and sale of loan portfolios in the United States and Puerto Rico, and closed multiple loan sale transactions with values in excess of $500 million.
Represented a national wireless telecommunications company in regional telecommunications transactions, including leasing matters and wireless infrastructure deployment in Virginia.
Closed commercial real estate transactions with values in excess of several billion dollars, including multiple transactions with values in excess of $100 million.
Represented national real estate sponsors of tenant-in-common syndications in the acquisition, disposition and commercial leasing of real estate throughout the country, including defeasances of securitized loans and mezzanine lending.
Perspectives
Speaking Engagements
Middleburg, VA

,

02.23.20- 02.25.20

Fredericksburg, VA

,

02.19.2019

Austin, Texas

,

02.10.2019 - 02.13.2019

Fredericksburg, VA

,

12.11.2018

Fredericksburg, VA

,

12.11.2018

Washington, D.C.

,

04.23.2018

Webinar Presented by Carrie O'Malley on Legal Considerations of C-PACE Projects, Mid-Atlantic PACE Alliance (MAPA)

Opportunity Knocking:  Funding Energy-Efficient Improvements Through Real Estate Assessments, Weinberg Land Use Forum

Virginia CLE Reciprocity Course Webinar Presented by Carrie O'Malley on Contracts, Sales and the Uniform Commercial Code in Virginia

Fredericksburg, VA

,

04.23.2015
Publications
Chapter Co-editor, 2020 Edition  

Contract Law in Virginia

,

12.01.2019

Commercial Property Executive

,

02.21.2019

Carrie O'Malley Authored Contract Law Chapter of Virginia CLE®'s Virginia Law and Practice Handbook, 2016 Edition

Carrie O'Malley Authored Formation of Contracts Chapter and Co-Authored Statute of Frauds, Construction Contracts and Real Estate Contracts Chapters of Virginia CLE®'s Contract Law in Virginia Law Handbook, 2015 Edition
Beyond the Law
Beyond the Law
With two accomplished teenagers away at boarding school, Carrie and supportive husband Michael find themselves empty nesters earlier than expected. Though a quiet house is bittersweet, Carrie's law practice, three labrador retrievers and crafting with corks (a byproduct of her other favorite hobby) keep her busy.
In 2016, Carrie and Michael put their summer vacation plans on hold to deliver an unplanned litter of black lab puppies in their mud room. As the birth unfolded, Carrie was also fielding calls and reviewing documents to close a $50 million deal in Puerto Rico! When she retires, Carrie plans to be a "doggy doula," for anyone who will have her.
A native of Fredericksburg, Carrie grew up enjoying summers on the Potomac River. In her spare time, she and Michael enjoy weekends at her family's river house, soaking up the natural beauty of Caledon State Park, a neighboring bald eagle sanctuary.
Carrie was recently recognized among Virginia Lawyers Weekly's "Most Influential Women in the Law" for 2019. This new Virginia Lawyers Media awards program recognizes the achievements of some of Virginia's most accomplished women lawyers and judges. Carrie was joined by her husband, Michael, Hirschler colleagues Andrew Lohmann, Rod Simmons, Lisa Hedrick, Kelly Bundy and Mike Terry and their spouses at the awards ceremony in Richmond.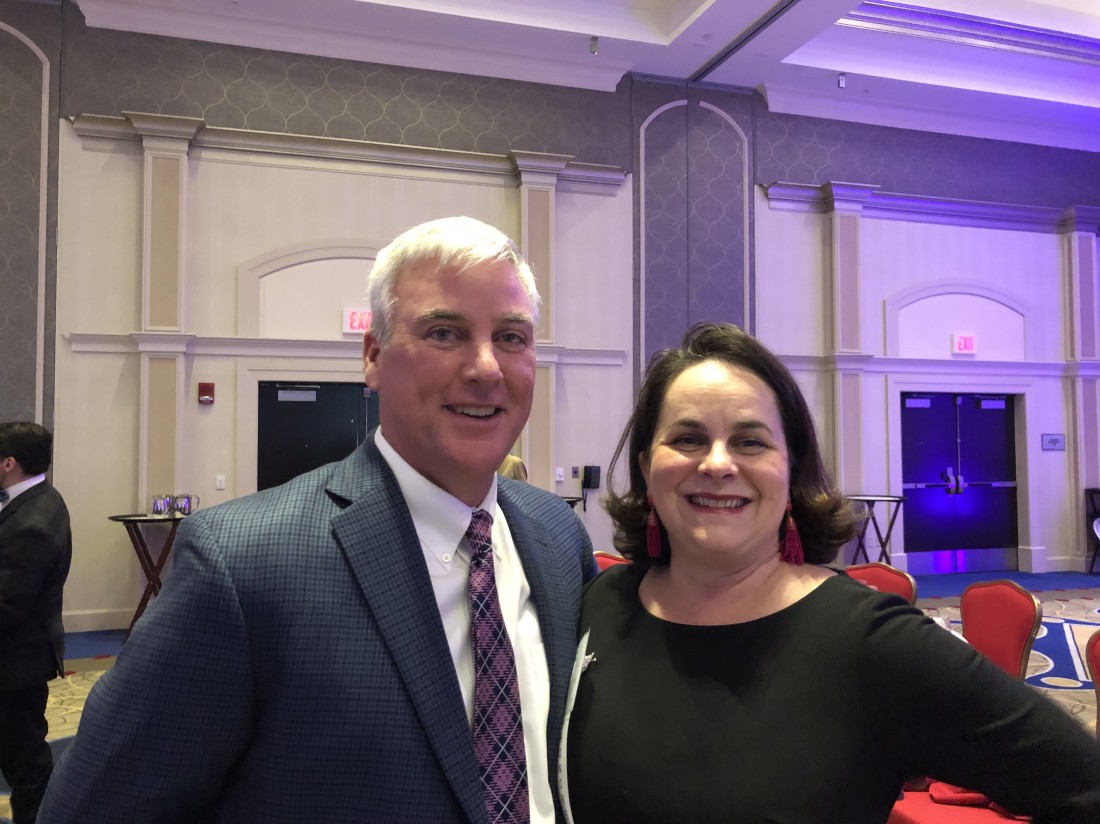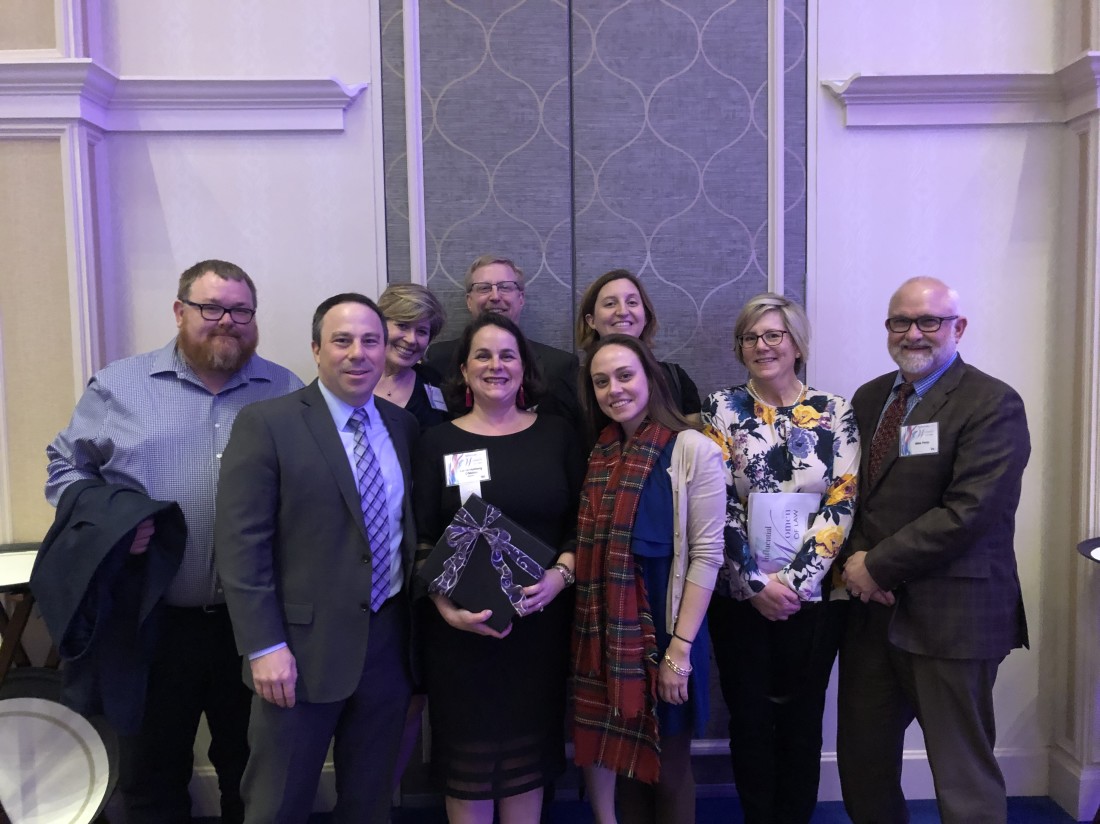 Services
Education
University of Richmond School of Law, J.D., 1996
Richard S. Reynolds Graduate School of Business at the University of Richmond, M.B.A., 1996
E. Claiborne Robins School of Business at the University of Richmond, B.S.B.A., 1991